Start Part 3.
Readers are welcome, and encouraged to leave comments on this blog-site.
We arrived at Koes
Jim's comment
We found it is easy to waste 2 hours doing high speed "figure eights" on Koes Pan.  What a sensation this is!!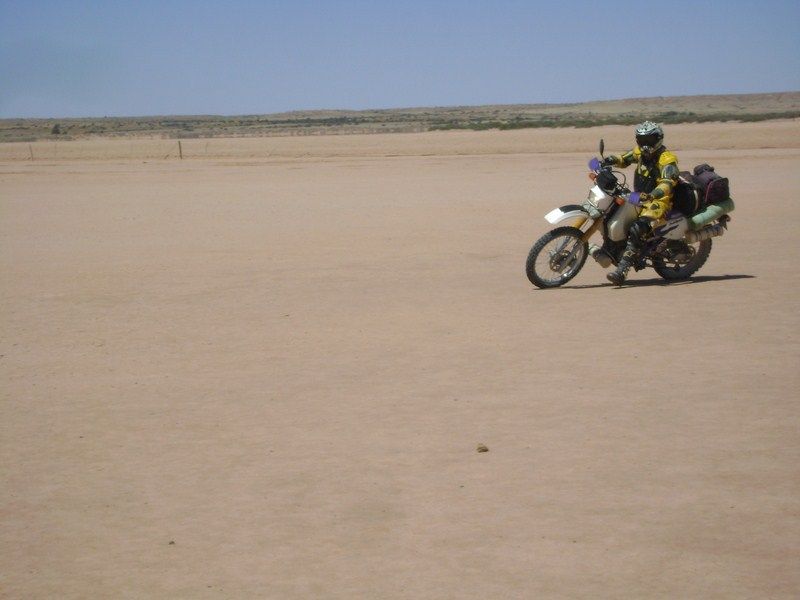 This pan is a pretty cool place. I still wonder what it looked like 1000 years ago.
Jimbo chased me, – I chased Jim (yeah right – let's say I chased after Jim).
We did some video recording while riding, but the little mik-n-druk's were not up to the task. Even though the pan surface is really smooth the vibrations still give a very jumpy video.
Haring around the pan is plenty fun – do it if you get the chance.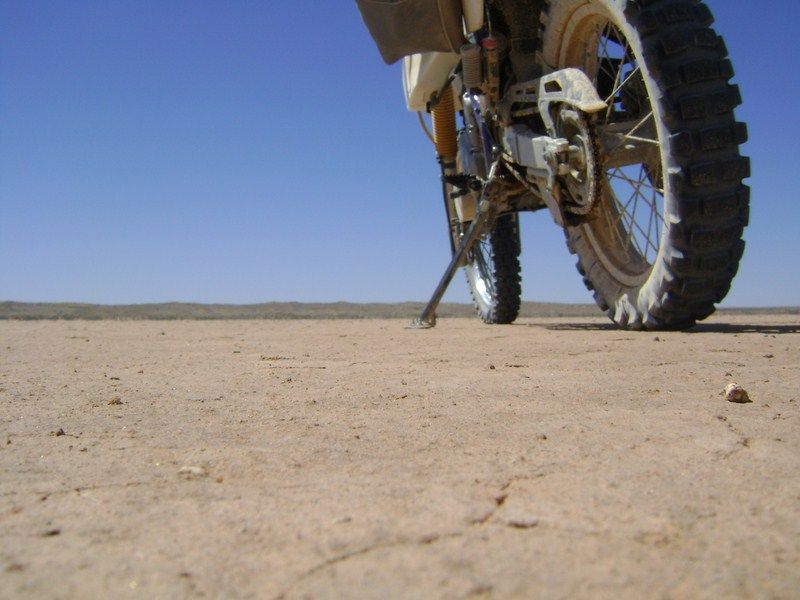 Koes was fast asleep on a Sunday midday. We had a nice chat with one of the sheep farmers in the area. He was telling us of the serious lamb losses they have because of the huge Jackal population.
Amazing how you can live in a city with 1000's of people and not chat to anyone while re-fuelling, yet here in a sleepy town, total stranger, lekker chat – go figure!!!
Jimbo's comment
Easy start, 10km into Aroab, fuel-up, pay Namibia road tax at store, hit the beautiful Namibian road to Koes (lots of fast gravel corners here).
We played back and forth on the zero gravity sand dunes, but our attempts to video this was dismal.
Then on to Koes, and being Sunday, all we could do was play on that lovely pan for an hour or two, chat with the locals (Sheep and Jackal farmers), fuel-up again and head west to Tses.
On route to Tses one catches the first glimpse of Mount Brukkaros, 90 kilometers away.  Wow what a sight and sensation.  It remains in sight for two hours until you can eventually put your feet / wheels on it.  
On the road between Koes and Tses we were reminded of the perils of travelling these roads at too high a speed. Even the locals get caught out…..  This was just after a tricky right hander with a small bump just before the turn. This had probably happened the previous evening.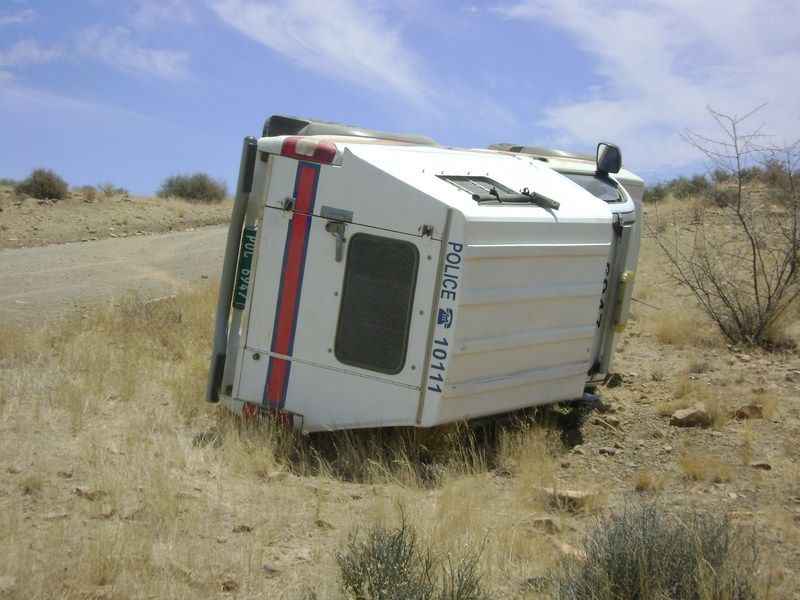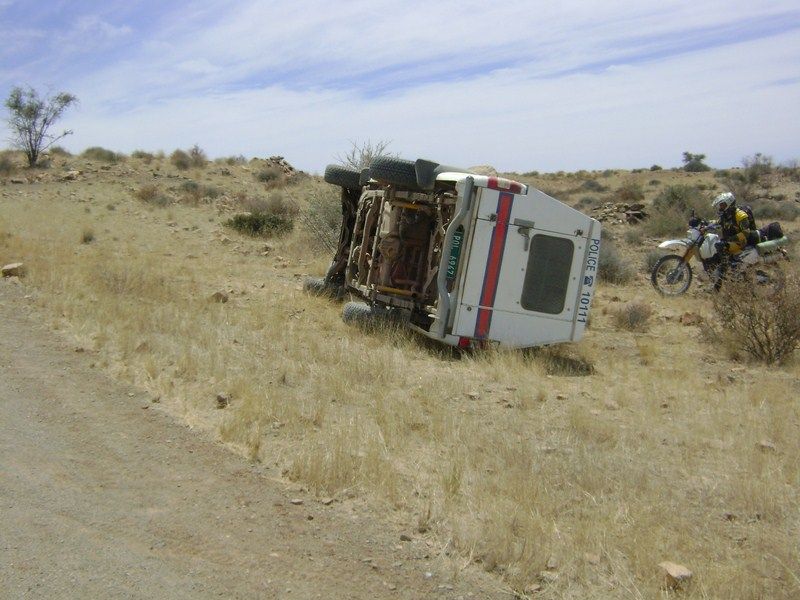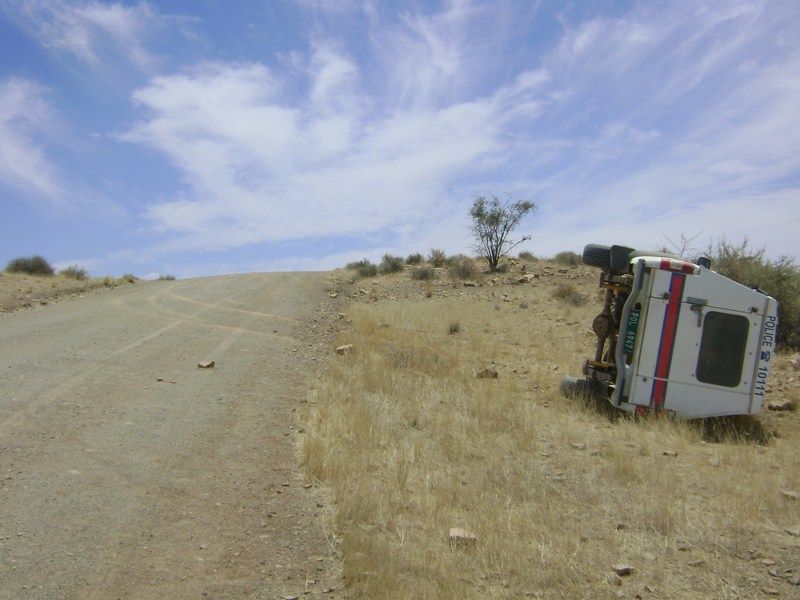 I was once again fascinated by the fields of Quartz that littered the ground about 35-40km from Brukkaros, a remnant of the eruptions I am sure.
The stark beauty of this place…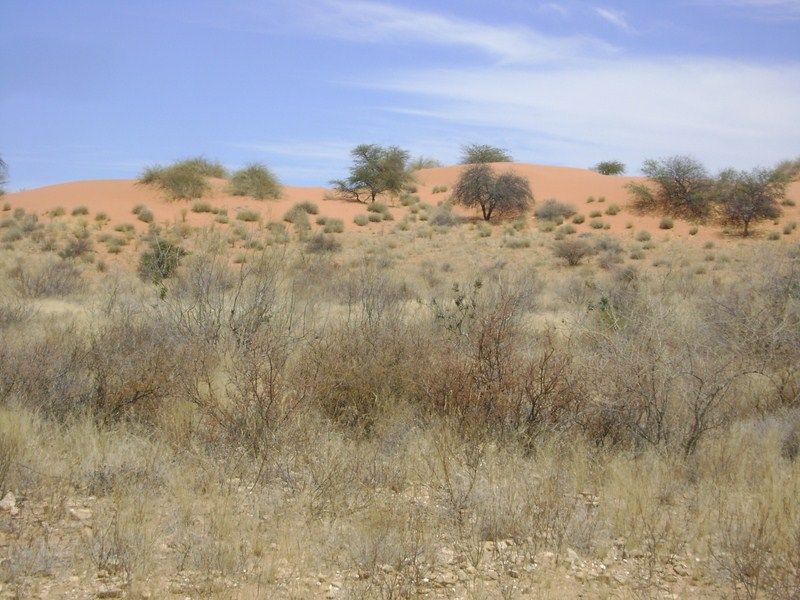 Jim's comment
Shortly after Koes "The Volcano" comes into sight
At fuel up in Tses, we were reliably informed that the gate and fee asked at Mount Brukkaros is a local scam.
We put this to the test, and sure enough.
The view and full moon camp at the top (Or as high as the bikes can safely go) made it all worthwhile.  
At Tses one of the locals confirmed that the "fee" collection at Brukkaros was not official. So as honest tourists, a little more informed than in 2011, we circumvented the boom gate and belted up the last bit of the climb to our overnight spot.
Apparently the crime rate in Tses is very high, not a place to be after sunset. (just like Jozi!!!)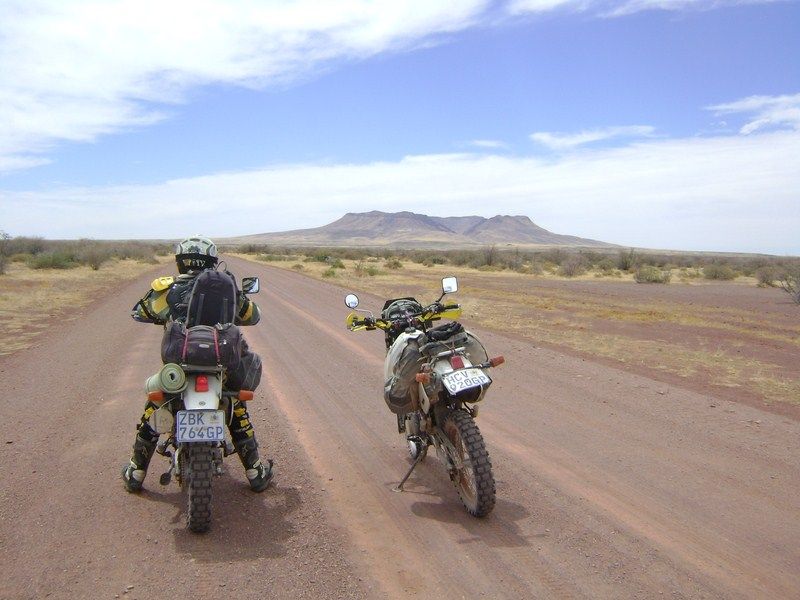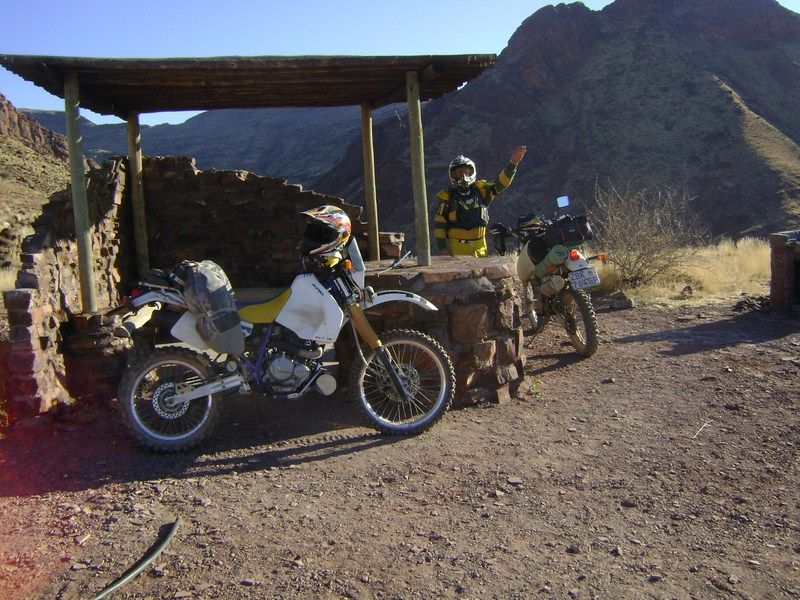 Upon arrival we set-up camp  camp and took care of priorities – me being careful not to spill any precious  fluid.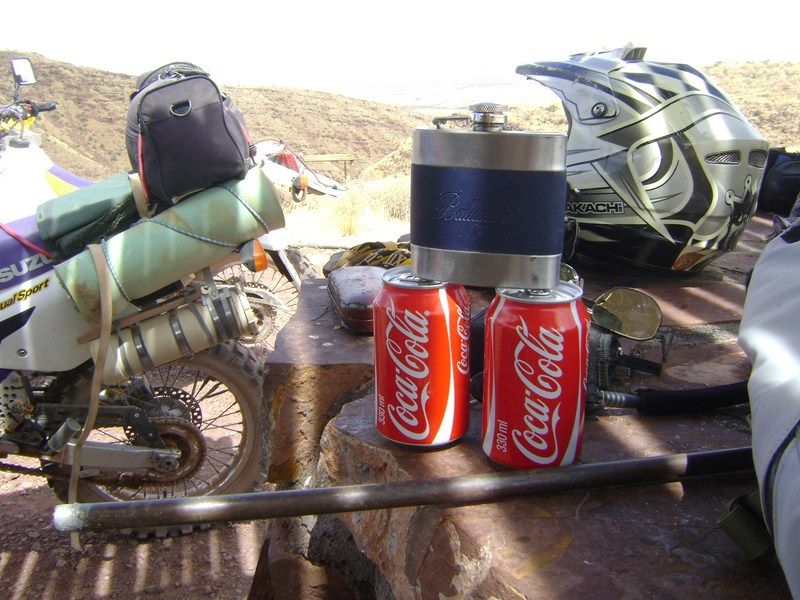 Jimbo
We had been donated a flask of Brandy to share when we got to the volcano.  Some sponsorship Huh??
The Allure of Brukkaros…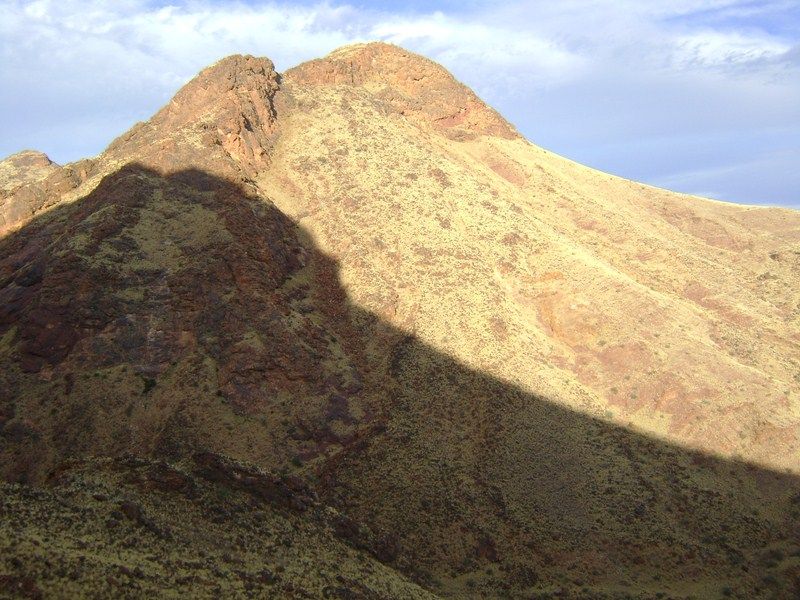 Day 5 Monday:
Jimbo's comment
A busy start.  I had arranged to be at Johnny Kotze's farm again tonight to meet some people.  (Aussie migration clients).
An uneventful, but pleasant ride from the mountain to Keetmanshoop.
The Fish River crossing had a bit of water in it.  The river-bed had been dozed flat and wide, so that when the water came it would be wide, but not deep.
I have decided to find a better restaurant in Keetmanshoop next time I am there.
These grisly sights along the Keetmanshoop / Aroab road – testimony of the Jackal/Farmer relationship.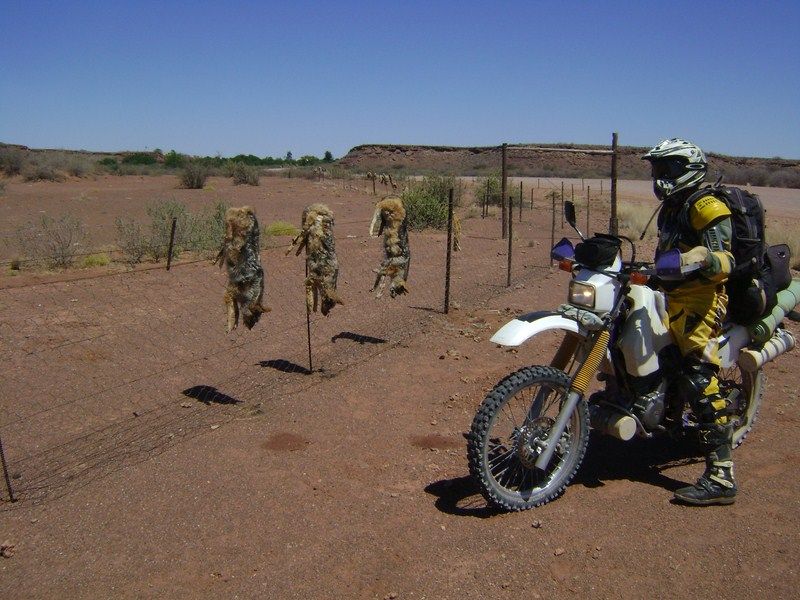 We had heard that the Askham to Van Zylsrus road had been graded recently, so would give it a try.  We should have known better.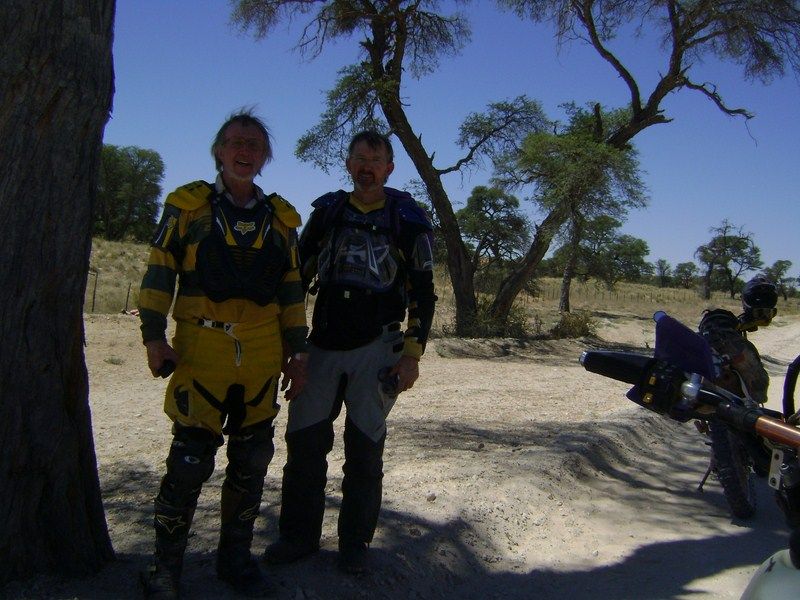 Strangely, there was nothing wrong with Johnny's 5km of white sand farm road in broad daylight.
We arrived at the farm house around 15h30, showered and went to sleep.
Johnny woke us at 19h00, the people had arrived, and the fire was ablaze.
I love this life.
The Askam road is like doing 15 rounds back to back with Mike Tyson, just a  relentless pounding. We got hammered.  The condition of the road is poor, corrugated uneven and just not pleasant.  At one point Jimbo got a snake-bite flat on his front wheel.  We had to scurry for some shade to effect the repair.
While busy in the stifling heat, a procession of police vans came hammering past us at speeds only reserved for emergency response – crazy.
Day 6 Tuesday.
Jimbo's comment
This is going to be a hard one.
Firstly to get into Van Zylsrus from Johnny's farm (35 km), then 350 km along the Botswana border fence (Avoiding "Barbed Wire Bend" if I remember where it was).
Through the "Molopo Game Reserve" to Bray, then the 100 km of sand to the end of the Bray farming area.
That would leave us within easy reach of Mafikeng and Johannesburg.
The cracked rib suffered today, so did I.  It was painful to stand up, but once standing OK.
This section of the route had deteriorated since the week before.
Slept soundly in open bush just off the fence.  No supper this time, but that's OK.  Lekker.
We left Johnny's and did the 5km sand gauntlet without mishap. After re-fuelling our scoots in VZR, we went to refuel ourselves at friends about 35 km outside of VZR on one of the border farms.
This was a real Kalahari breakfast. The people are hospitable and very friendly, baie dankie Japie, Hester & Tannie Alta
The homemade Ginger Beer Hester served is the best on the planet….
All too soon we had to say our goodbyes and face the next stretch to Bray.
The border fence section was exciting to travel in the opposite direction, the only reminder that I had been there before were the waypoints reminding me of incidents or dangers I had marked on the 2011 run.
Travelling the opposite way to a few days ago was as if we were on a totally different route.
The GPS my only friend in this fast terrain.
At one point I came upon Jim sitting on his bike in the middle of the track watching his friendly Ostrich from a few days ago pounding along the track, still trapped by the two fences.
I opted to ride in the sand next to the track assuming that the Ostrich would not want to run where it was sandy and loose.
Jim took the tiger-line and passed the Ostrich without incident.
Once he was through I followed suit after almost making a boo-boo in the sand.
The Ostrich was looking a bit haggard by this time.
Once through the Molopo Game Reserve, the final stretch to Bray was a real tester.  It more than rivaled the Askam road. I could not believe how the road had deteriorated in a week.  It was a real test. Took another serious hammering.
We arrived at Bray battered and bruised, re-fuelled and hit the final 100 km to our overnight stop.
All who spoke to us in Bray warned us of the game along the way, especially this late in the afternoon.
We rode carefully, on high alert watching for Kudus and Warthogs.
The bush was right up to road edge so heroics were not called for.
Fortunately no close calls were had apart from a young Kudu  bull crossing the road as I approached but I had plenty of time to slow down.
Riding with the sun behind us was definitely in our favour.
We got to the overnight stop and settled down for an early "supper-less" night.
Day 7 Wednesday:
Jimbo's comment
We got going about 1h15 after sunrise.
A bit too early for riding into the sun.  Had to slow down for a while.  One of the reasons for the 2 hour post sun-up standard camp departure time.
Sean and I both recon this last bit of the border fence is the most enjoyable.  Although there had been some storms in this area recently, the grass was only just showing.  The livestock were in very poor condition, and the vultures having a feast.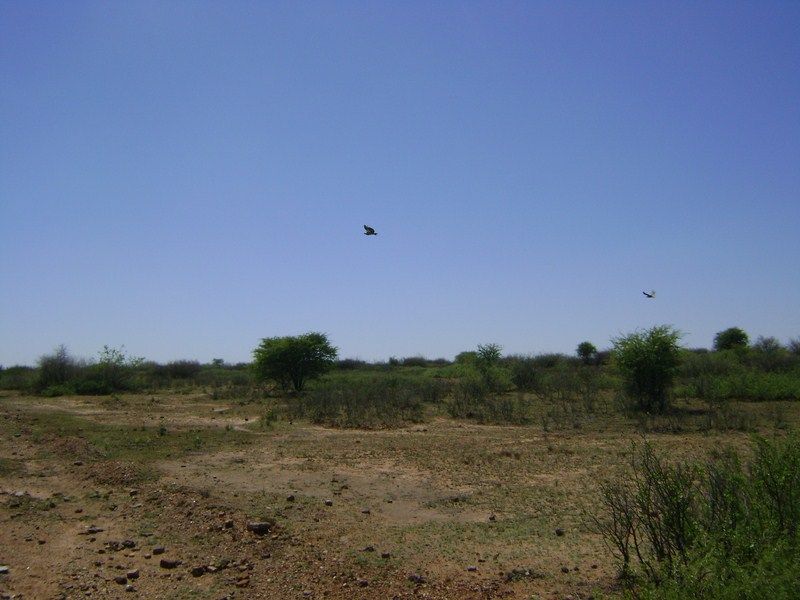 We spent some time disturbing the Vultures.
They were not keen to fly far from their meal, and would land a few hundred meters away.  We would charge them again, and watch them waddle along flapping vigorously with full bellies to get airborne.
When they landed, we would charge again etc.
On a previous occasion, further back I managed to punch (left jab) one in mid flight, that I had come upon suddenly.
On the bikes, we were nearing the end of our ride now and ringing the last out of it.
Cracked Rib (probably more cracked now) giving me a hard time at every bump.
I was looking forward to a Nandos at Mafikeng, but not the 300km back to Fourways.
Again the head winds conspired against us.
Arrived home around 16h00.  I was not much good for anything else that day.
Thank you for your attention.
The section from Bray to Mafekeng as Jimbo mentioned earlier was for me the most enjoyable.  (not for a moment saying I didn't enjoy the rest of the ride).
This section is fast with 1000's of corners, the terrain changes by the minute so not time to get bored or think of anything else except staying alive.
It can be travelled sedately, or by stretching the cable, but if you drop your guard it will chew you up.
Jimbo and I have discussed the merits of doing Mafekeng-Bray-Mafekeng over a weekend on the KDX's.  This requires some extra fuel support and additional planning, but I think it will be awesome to slide a lightweight plastic around those corners…..
—— RIDE HARD, SHOOT STRAIGHT, AND SPEAK THE TRUTH ——-
———-  END PART THREE.  ——
As a Point of Interest.
In the early to mid 1970s I did a 4 x 4 survey recce with my Dad and an assistant.  The idea was to properly survey the coordinates of the already built and agreed-upon boundary beacons / monuments.
These pictures were taken on slides with a single lens reflex camera, probably a Pentax K2.  They were to help me prepare a quotation for the survey job.  Which I eventually did not get – maybe lucky there.
The slides have been since scanned into my computer.
Here they are:  Maybe you recognise the locations.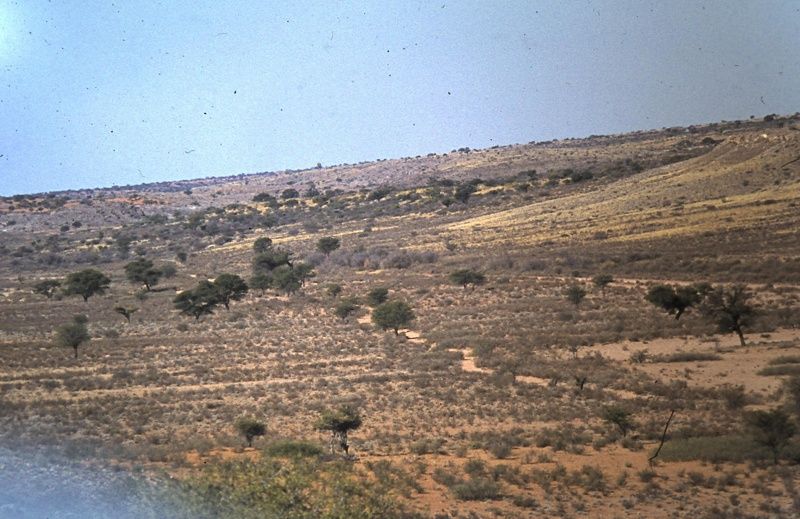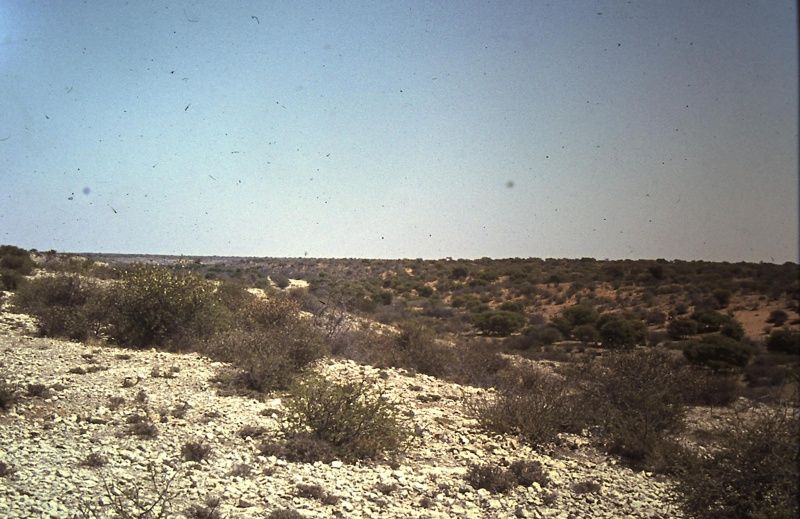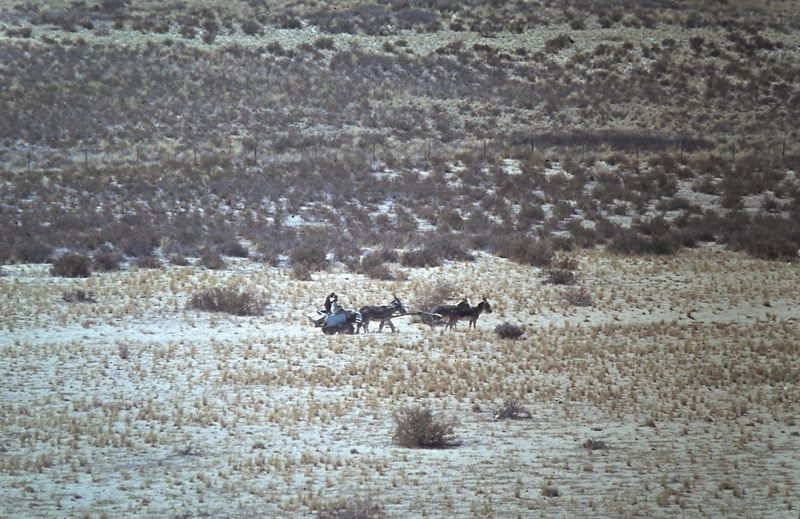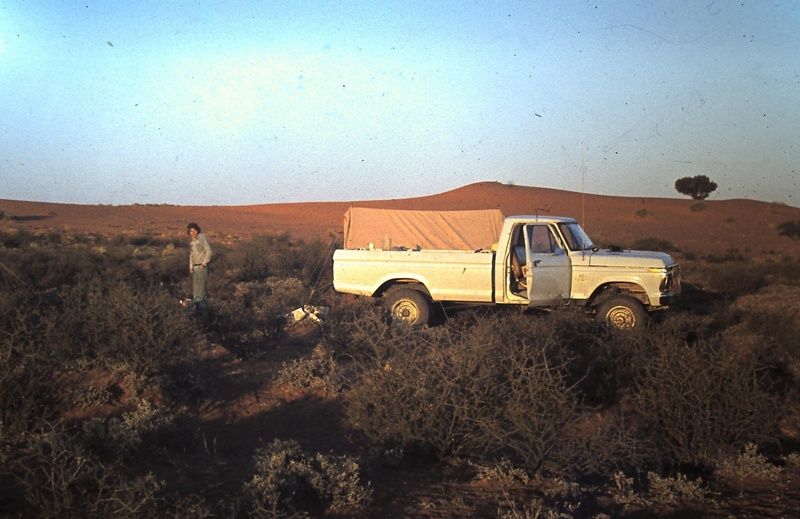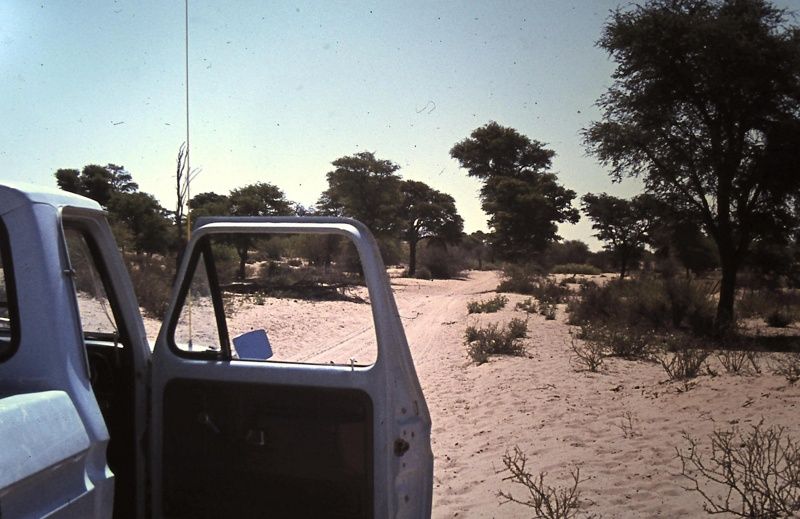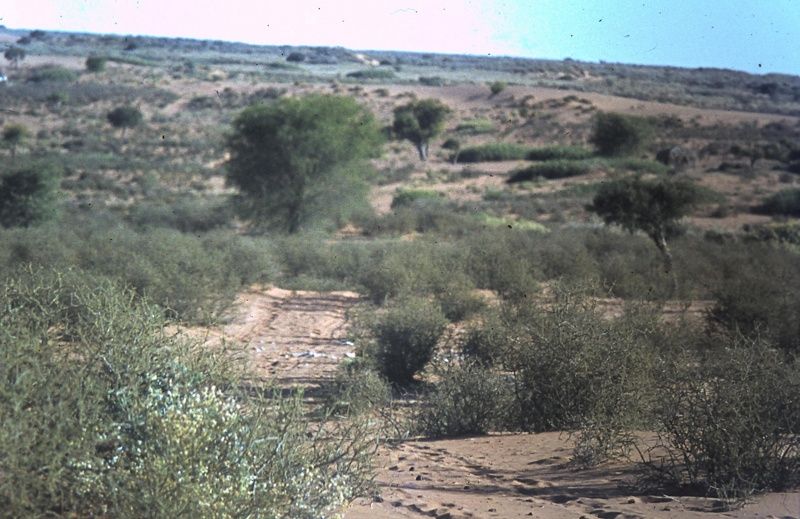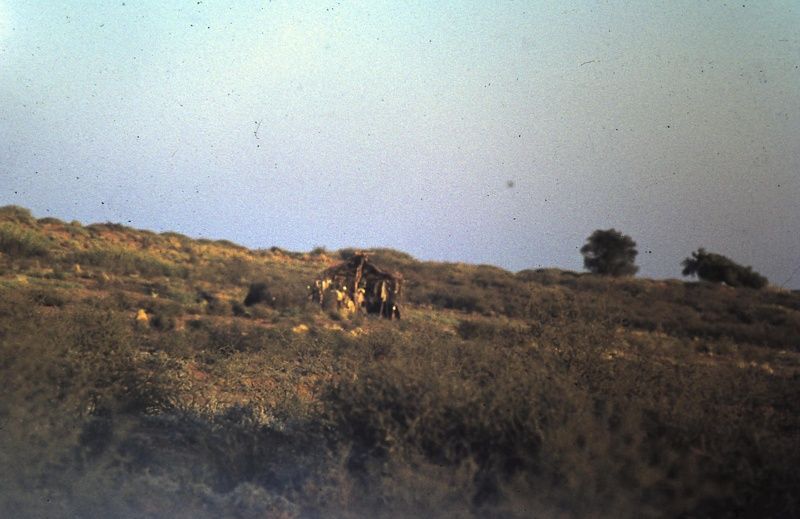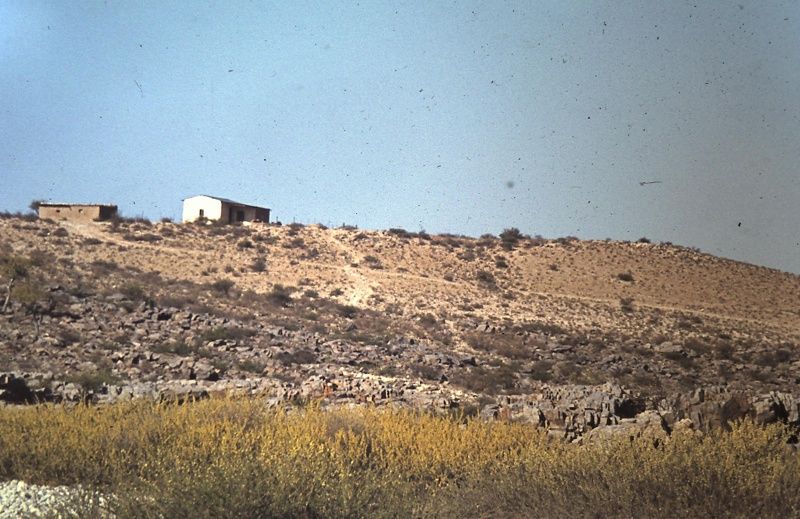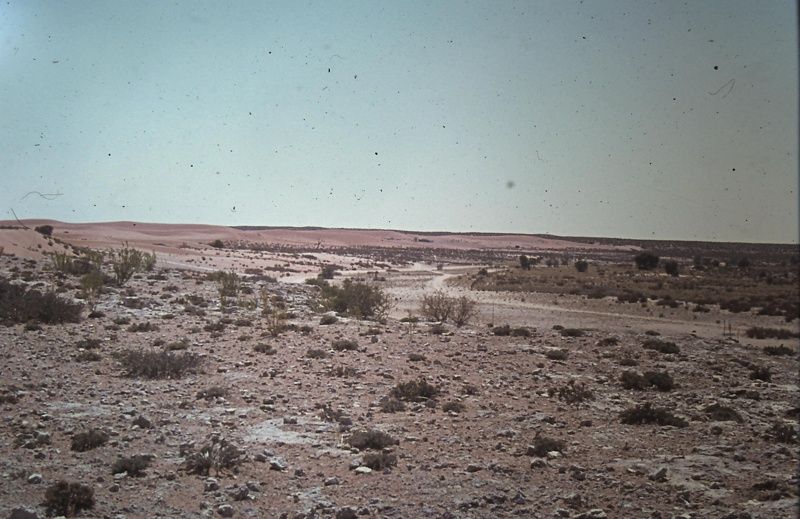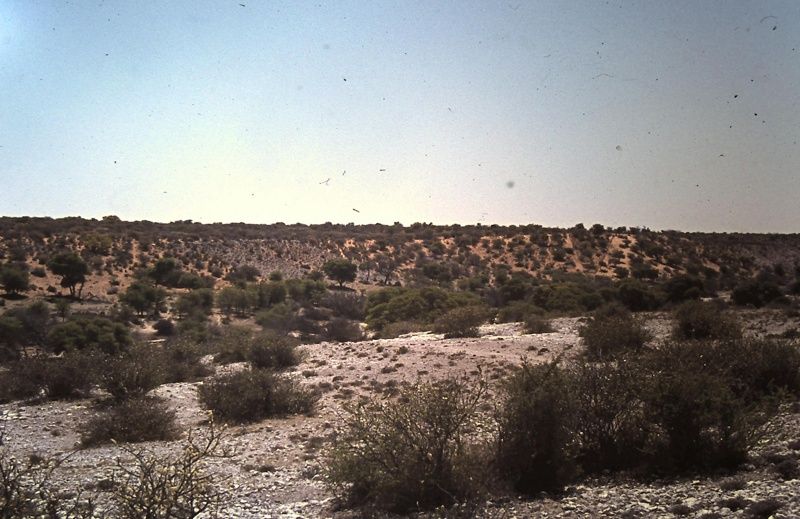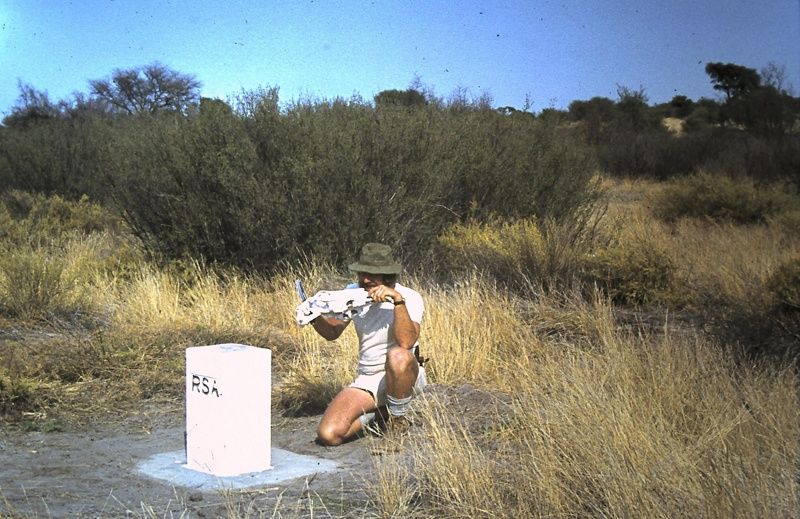 —– RIDE HARD, SHOOT STRAIGHT, AND SPEAK THE TRUTH ——-
Thanks.