Readers are welcome, and encouraged to leave comments on this blog-site.
START PART 2.  
Ja Ja, just catching my breath in Van Zyl's …
Well that lucky ol' sun must have cooked my brain 'cause I forgot to insert Jim's contribution to day 2.
Jimbo's observations of Bray to Van Zyl's Rus.
Day 2 Friday:
Woke up semi recovered, and set about fixing the Suzuki's rear flat. It turned out there were 3 thorn punctures, probably from thorns still in the tire from the "Kruger Fence" ride during August.  I gouged these out with the awl on the Swiss Army Knife, put in a fresh tube and patched the three offending punctures for next time.  This took quite a while, but we were now on our way again to Van Zylsrus.
In, and near the "Molopo Game Reserve" there are wild animals in abundance – Kudu, Gemsbok, Warthog, Hartebeest, Eland and the smaller Duiker and Steenbok.
Outside the game reserve, between the border fence and the actual farm fence where game often gets trapped.  I came up behind a very large Ostrich pounding along at 65 km/h, and throwing back quite a storm of sand and stones.
I followed patiently for a couple of kilometers hoping he would give up and pull over.  I came up really close on a few occasions, but could see he was prone to instant lane changing without warning.  Eventually my patience evaporated, and I made an attempt to overtake on the right.
When I was alongside – Mr. Ostrich decided a lane change was in order, and managed to bump me off the track into the bushes.  There was nothing to hit for a bit, and I managed to slow down before hitting some roots and uneven ground and crashing on my right side into a low bush.  To my surprise the first thing I heard was a couple of dogs barking.
When I wriggled out from under the bike I saw a black man and some women just on the other side of the border fence in Botswana.  I saw no reason why they were there, but beckoned him to come and help me with the bike.  He hesitated, I think because he did not want to be seen with dogs on the RSA side (poaching).  He then shouted at the dogs to stay, climbed over the fence and helped me right my bike and drag it out of the bushes.  I was much obliged.  It was only later, the next day, that I noticed the first familiar twinges of a cracked rib.  It was to become more than a twinge.
A little later (middle of the afternoon, and hottest part of the day) I led us into a corner of the fence where no vehicles had been for years.  It was very soft sand and strewn with meerkat holes, really hard going, could not pick up speed.  First my right foot picked up a big ball of barbed wire.  I managed to shake that off, but not without also losing a boot buckle.  I had not recovered from that when I felt the back wheel pick up something.  Being a bit befuddled at the time I did not hit the back brake until eight wheel revolutions later.  What a mess!!
Got fueled-up in Van Zylsrus at last light.  It was now 35 km in the dust and dark to the farm house.  I got to the farm gate first, and opened for Sean, and signaled him to carry on to the farm house.
The near full moon was now well up, and I followed Sean the 5km to the farm house.  I could not believe the motorcycle spoor I was following in the white soft sand.  It was from side to side, leaving the tracks completely and coming back again, digging in and straightening up again.  Well done Sean, that bit was not easy in the dark.  I saw the bonfire before the farm house.  Johnny was there with 6 of his game catching mates and enough meat for 15 people.  The braai fire was just starting to die down.  Naturally we were well fed, and watered that night.  Sleep came easily.  Hell I love this life.
Those farm kids do not know how lucky they are.  Johnny's 14 year old son Hendrik now has possession of my old DR125 for his exclusive use around the farm and surrounding farms.  His pal who is a year or two older has the use of a TW200.  Both these guys are fearless sand riders, and both bikes are more than adequate.  While we were there, about midnight with a super bright moon they decided to go out and chase the various night creatures on their bikes.  The farm is mostly flat with white – white sand and a few low ancient dunes to the east.  They were out for at least an hour.  What a life.
I was made to feel guilty for providing Hendrik's bike without boots and helmet (not that he cares).  I have agreed to try and find old boots (about size 11) and any helmet (small to medium).  If any reader has such articles for Hendrik he would care to part with, I would like to hear about it.
Of further interest, are the meerkats on Johnny's farm.  They are a point of study by people from all over the world.  At any time groups can be seen on foot, on quads and 4 x 4s bristling with radio direction antenna, maps, GPSs and binoculars.  Sometimes just sitting in one spot and watching for the meerkats.
The farm is about 30km south of the big Molopo river bed.
Day 3  ……started with not just a little bit of apprehension.
After a good supper and chat to the professional game catchers the previous evening – I was once again left alone and at Jimbo's mercy – in the middle of the Kalahari.
My subtle hints of maybe taking the shorter/easier road via Askam fell on deaf ears, Jimbo wasn't having any of that nonsense – we were here to ride, not sight-see.
Another bit of apprehension was the fact that I had not travelled the next part of the journey and did not know what Ol' Leather-Butt had planned for me.  – (This may need a little explanation for the dear reader to understand my term of endearment. As the hours  and miles accumulate on a ride of this nature, naturally the lack of blood circulation in the posterior leads to that phenomenon known as monkey-butt or numb-bum, the effects of which require constant re-adjustment and frequent seating position change to ward off the worst of the symptoms. Now some of the riders of bikes with "plusher" seating arrangements may not have experienced this to any degree of extreme, but believe me, the washboard seating arrangement of a DR, on seriously corrugated Kalahari roads, fast-forwards the onset of this predicament with alarming efficiency.
In an effort to ward off the effects, I wear a pair of padded cycling shorts under my riding trousers. My scoot is set up so that I am able to move forwards and backwards on my seat, sit on top of my Loop bag and stand to try retain some degree of comfort.
NOW THIS IS THE TRUTH – I have not seen Jimbo (Ol Leather-Butt) attempt any of the "ants-in-the-pants"antics that I do, to alleviate the dreaded numbness. When he sits on that seat he just stays SAT. If he stands it will be for a navigational reason, the rest of the time he don't move. Check where his bags are behind him, there is no movement space permitted.)
We had a lazy start fixing the punctures from the previous days foray into "Barbed-Wire Bend".
As I walked around the sandy farm yard, underneath my seemingly calm exterior I was  knot of nerves. I knew that some speed riding would be the order of the day, and that today's section was a tough one. To make my mental state a little worse was the fact that I had miscalculated our return date, thinking that I was a day short – must have been the effects of over-exposure to that  "Lucky Ol' Sun". Not far from my thoughts was the return sand-trip to the main road that had almost claimed me the night before.
As we kitted up I felt like the proverbial "lamb to the slaughter" – fight or flight?? (I wasn't about to fight with Jimbo – he's too tough – and Flight was out of the question, where was I gonna Flight to….??  So with some trepidation I started the Gauntlet of Sand towards the main road, my breakfast sitting uncomfortably high…. as Jimbo took off at pace to do some action filming riding the sand….
Jimbo's comment
Johnny and his band of fearless game catchers had left quietly before 04h00.  We arose sometime later, certainly after sunrise.  I inspected the farm, while Sean patched his yesterday's punctures.  We took some leftover braai meat for lunch, and frozen chops and wors for that night, which would be Kamp 13 in Namibia.
The plan was to go straight to the "Big Molopo River Bed" and follow it to "Molopo Lodge".  Then directly to Hakskeen Pan.  This we did
DAY 3
So with these nerves a-jitter and plenty of hardcore miles to cover and Jimbo's summary fresh in my mind…
"[ie From Van Zylsrus into the "Big Molopo River Bed" to "Molopo Lodge" it is 200 km riverbed varying from mud-plain to soft sand, and a few gates.  It is high alert riding, and very tiring]".
Well the start of today's ride went off pretty well. I can't explain why – the sand that had been an absolutely hairy experience the night before, was a tame little puppy today. It may have something to do with the reduced night visibility and subconsciously being able to scan more of the road ahead during the day – dunno.
So the 5km up to the gate was actually a whole lot of fun and got us nicely warmed up, Jimbo had left some impressive broad-slide marks in the road for me to enviously admire. (unfortunately the video footage of his ride was too bumpy to post).
The 20-odd kilometers to the Molopo river helped us to get back into our riding rhythm. A few gates and some nice stretches of sand and hard gravel….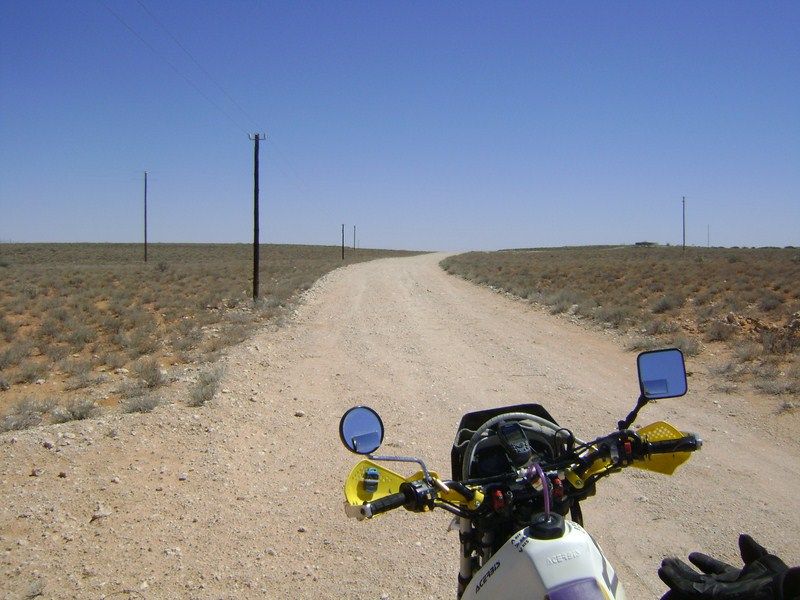 Jimbo waited for me in a wonderfully majestic spot – with the customary 'Nabian' salute.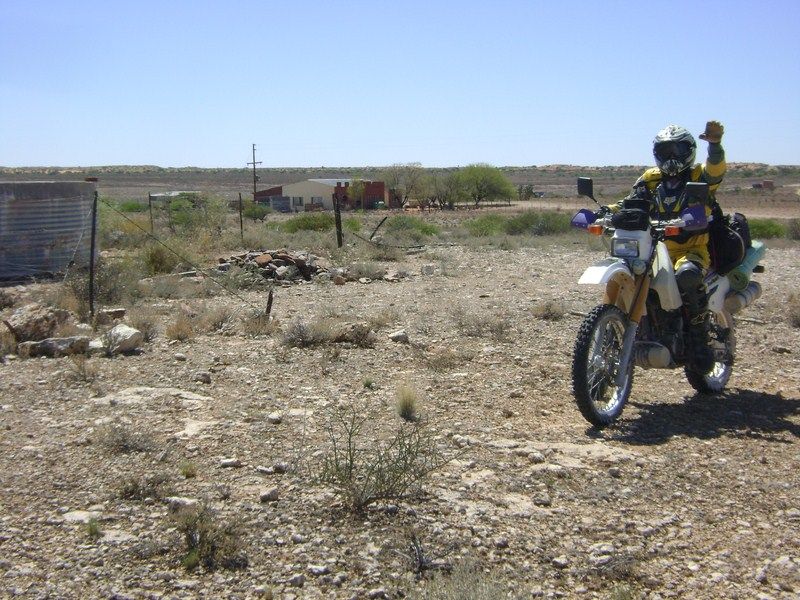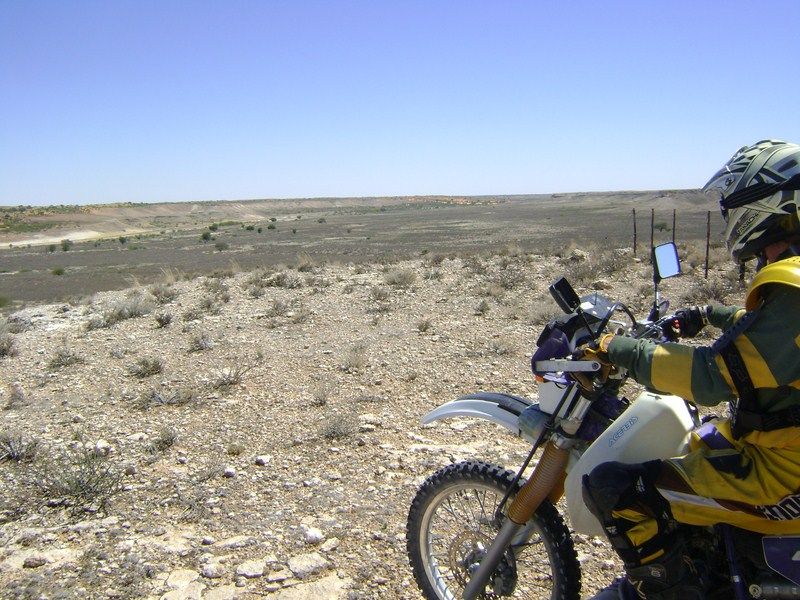 The road into the belly of the beast, – Botswana in the background
As we descended the temperature in the plain steadily increased. With every gate stop the lack of air movement had us perspiring quite heavily.
The ride was good, once I had settled down, relaxed and concentrated on the task ahead – I was having the time of my life.
For the guys that have travelled this section to Molopo unaided, they can appreciate the concentration and endurance required to do this stretch at speed. Although Jimbo and I were travelling fairly light, we each still started off with full fuel tanks, extra fuel in 2 x 2l coke bottles, water in 2 x 1.5l water bottles as well as 3l of water in our hydropacks.
We followed tracks made by some other bikers that had travelled a day before us. Good to see that someone else was enjoying some hardcore time – and by the looks of their tracks they weren't on a sight-seeing dawdle either.
As we persevered through the sandy corrugations, fast corners and faster flats, our speeds got higher and higher.
I know that you have to ride at speed to manage the sand, but with so many unseen game hazards along the road my mind screamed at me to throttle back just a little.  An occasional milli-second glance at the speedo indicated over 90 km/h – crazy stuff.
Just one unexpected obstacle was going to cause some havoc if not avoided.  As I was checking my odometer for the next expected  re-fuel point, I approach a particularly sandy corner section with an embankment about waist-high. The next thing a friggin police van comes haring around the corner on my side. SA driving/riding Protocol says keep to the left – not this Tjop – he just keeps cutting the corner.
As I shut-off, brake and gear down in twenty not so fluid motions, my front wheel does it's best to play hide-n-seek in the sand with the back wheel trying to get to the front to see what is going on…
Fortunately I manage to bring everyone back under control and in their correct positions as Tjop-in -a-van (with high-end sunshades on nogal,  
) just misses my RHS bar protector, passes by without stopping and carries on with his rally antics.  Not 5 seconds behind him Tjop no.2  
 follows with similar disdain for the other road users.  
On Jimbo's ride, when he says 'full alert' he ain't kidding.
Jimbo was waiting up ahead in some very welcome shade for us to re-fuel and get some very needed sustenance.
Here we saw another of those very mobile ticks scurrying around anything we put down.
A border patrol team on the Botswana side waved and gave us big Colgate smiles as they drove past on their side of the man-made border – friendly guys, not like the Tjops on our side.
The rest of the ride into Molopo went off hard and fast, the sandy plain suddenly giving way to a bone-rattling road. The never-ending corrugations and rocks not letting up at all.
I observed the smooth tar on the Botswana side with just a little envy. My tail end was well and properly numb.
Arriving at Molopo in the heat of the day, we re-fueled, stuck our heads in the pool – twice, and enjoyed an ice-cold Coke as we made some instant high-level decisions about the next stretch of looming Kalahari…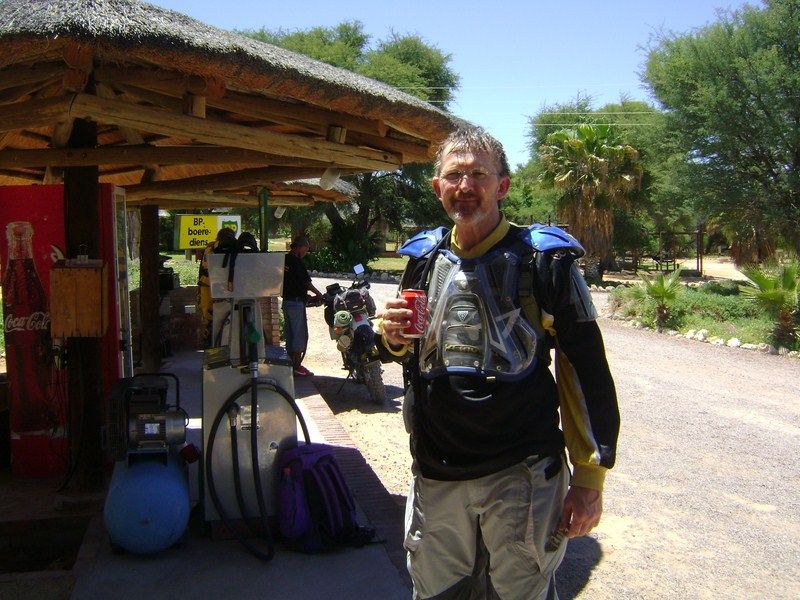 For the record, and contrary to Stevie's conjecture, I do get numbum, or would if I just stayed sat.  My standard riding position is well up close to the tank, with elbows up, and slightly forward and downward pressure on the bars.  I have about 100 mm of fwd & aft movement on the seat.  I like my backpack / hydropack to be partially supported by the luggage bag strapped to the rear part of the seat.  This position allows me to quickly put more weight on the front wheel, or to move back and yank up the front wheel as riding conditions dictate.  It also allows me to quickly lean the bike to left or right independent to body position.  This can control rear wheel break away to some extent.  On the kind of corners experienced on this ride I can exert more weight on the front wheel by putting my inside foot up near the front axle.  So you see I do move around quite a bit, albeit they are small movements.  I believe you should set yourself up properly to the best of your knowledge and ability at each and every corner.
On three occasions on this ride (One on the way out and twice on the way back) I felt the front wheel start to wash out, and thought to myself oh oh, you got it wrong this time jimbo, but the next instant the rear wheel broke away and started spitting, and the situation was saved.  I do not remember exactly how this happened, but I suspect I took the corner too cheap to start with, and did not set my self and the bike up as I should have.  I may have pushed the inside bar down a bit as a last resort.  Either way it is a great feeling when you save it.
I have decided a good while back to commit to getting around the corner, (rather than deciding to go straight).  The worst that can happen is a not too violent lowside get-off.  This is preferable to a violent highside, or running off the road into something hard.  And it is a great sensation when you exit unscathed.
Under other conditions you can move one cheek well off the seat and let the other foot just hang.  This will relieve numbum.  You can also swing the hanging leg to enhance the relief of numbum.  However this is not a good position to be in if an emergency pops up.
After having committed the unforgivable, of not completing a Ride Report…..
herewith the conclusion.
Without excuses…….
….and begging forgiveness…..
……and with the threat of a swift kick up the rump….
…….. Jimbo diplomatically asked me to…..
…finish the F*@#ng Ride Report…..
Molopo – High level decision time.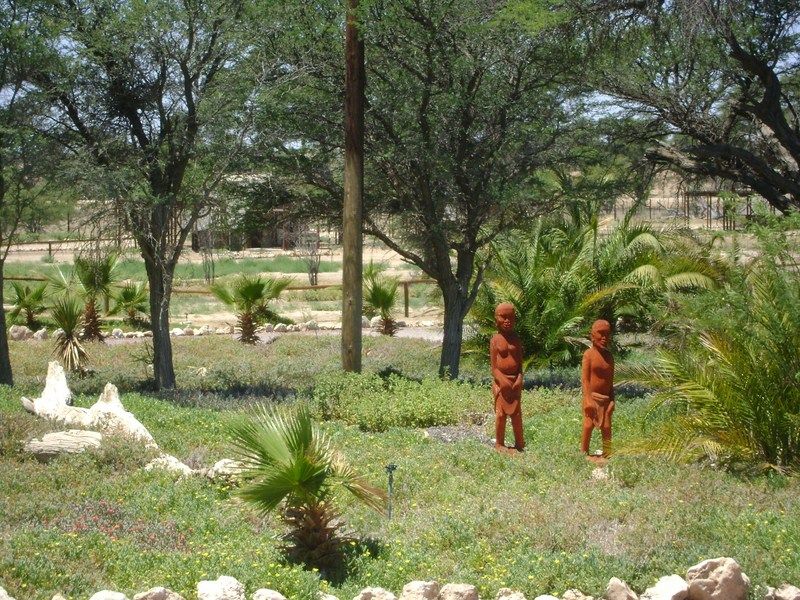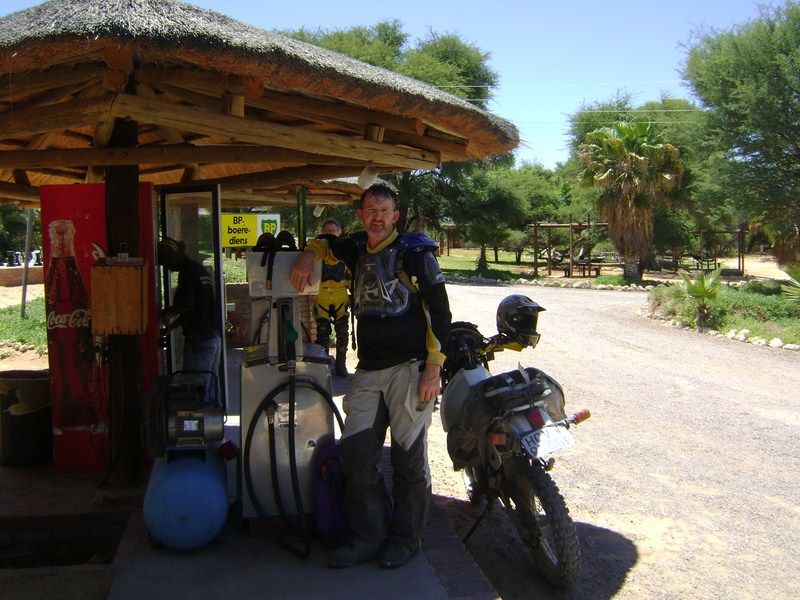 So as I drank my Coke, munching on a chocolate bar in the midday heat, nervously pacing around in the small patch of shade – the next High-level decision had to be made….
30+ km of sandy Kalahari Desert or  easy  tar to check out Hakskeenpan.
I dipped my head in the pool  just to keep a clear mind – twice.
Jimbo had planned to travel the northern route to the Rietfontein border post – 30+km of Serious Kalahari Sand.
Last year we cut this part of the route out as we were running out of time – this year we had plenty of time, but only two riders and plenty of "Lucky 'ol Sun".
There was some to-ing and fro-ing between Jim and myself regarding the route choice.  We both agreed to skip the sand loop, and visit Hakskeenpan now instead of on the way back from the Volcano.
The ride to Hakskeenpan on tar was predictably boring but still hot and stifling. We stopped on the eastern side to take some pics. As soon as we stopped moving the temperature shot up, the heat was crazy.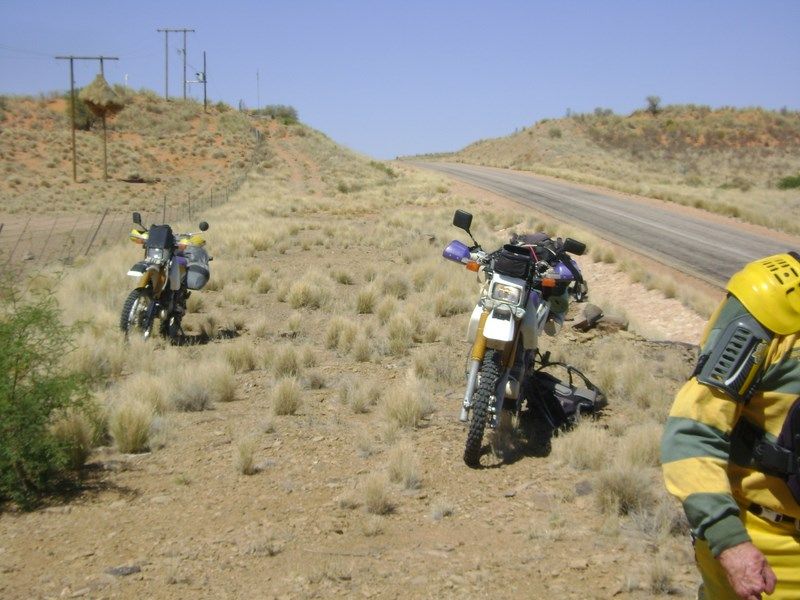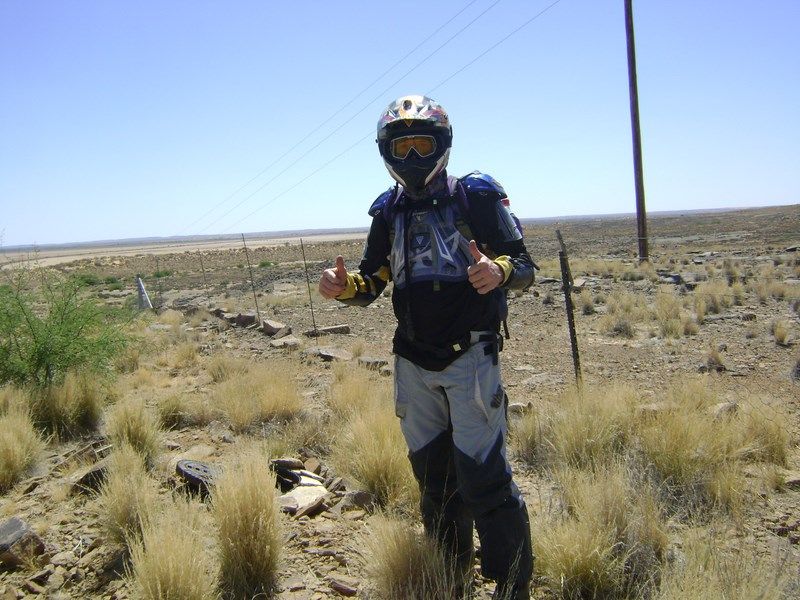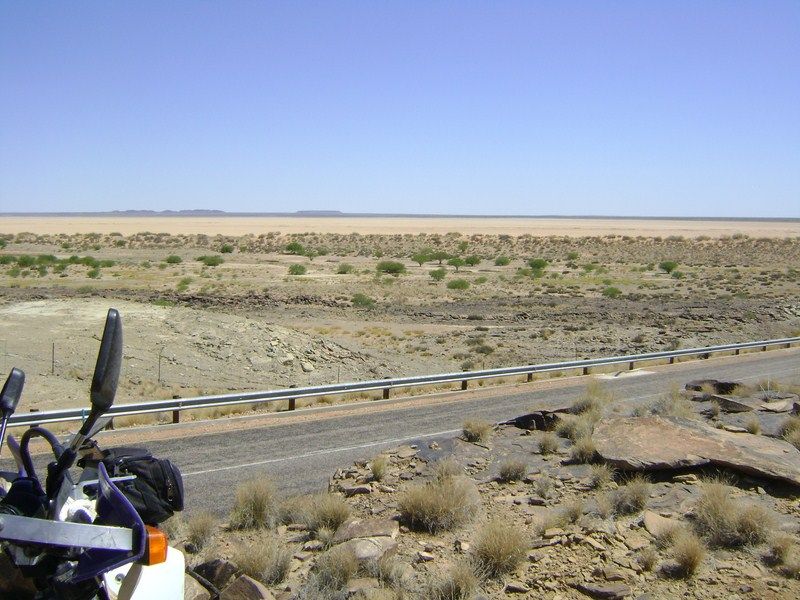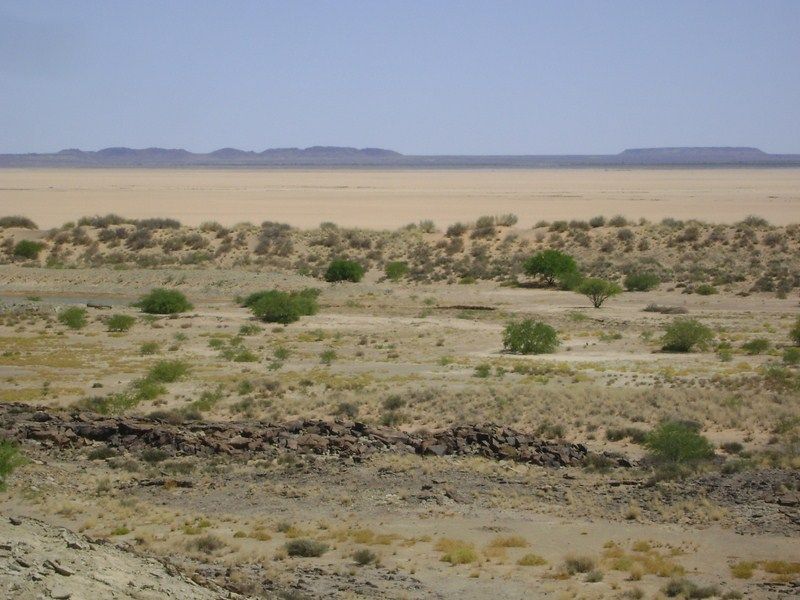 On getting going again, one of the bikes fell over – twice!!
While grunting and gritting to pick the bike up, I remember thinking to myself "I'm glad this isn't in the sand" – flip, it was hot.
Expecting the entrance of the pan to be restricted, we were surprised to have the place to ourselves.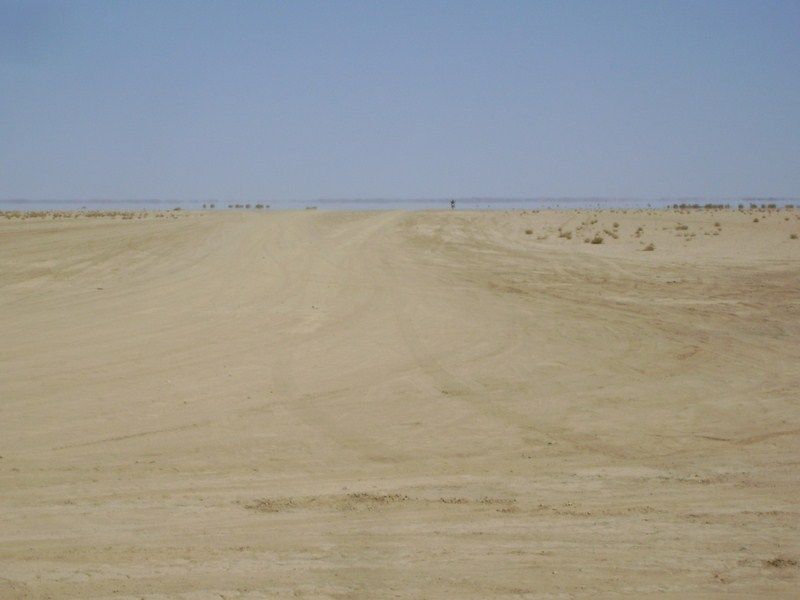 I grabbed the patch of shade provided by the official signboard as Jimbo went off in pursuit of some land-speed records. Fortunately a light breeze had picked up and helped cool things down just a little.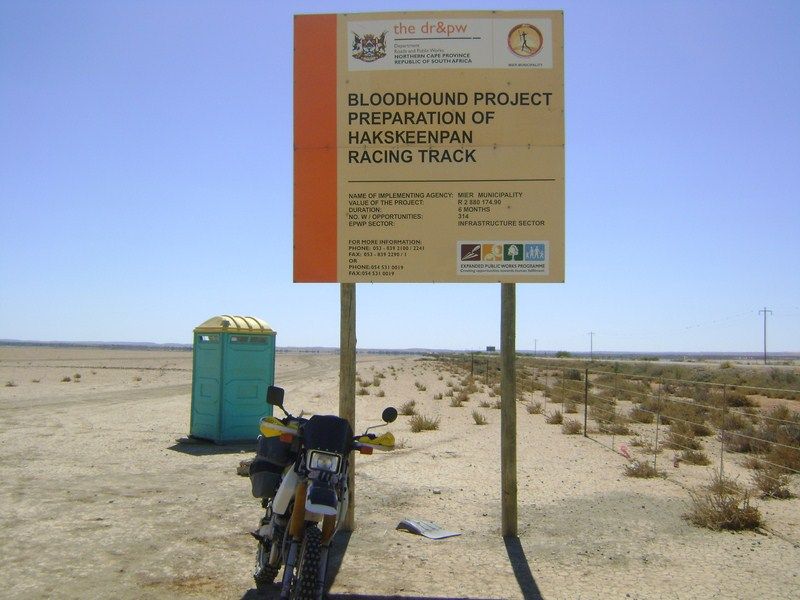 Jimbo burnt up some high octane fuel on a few high speed runs, the glare and heat spoiling any chance of good photos.
Jim's comments
The plan was to go straight to the "Big Molopo River Bed" and follow it to "Molopo Lodge".  Then directly to Hakskeen Pan.
This we did.  The pan was uninspiring, the runway was long and straight and flat.
I tried it out with my Suzuki, could only get to 126/127 km/h.  I think there is something wrong with that runway, or maybe the head-wind.  The actual surface is quite loose and dusty.  It can get very windy there.
Certainly the dunes to the east of the pan would be the place to be to witness the Bloodhound SSC record attempt.
I have decided to find and befriend the farmer/s who control those dunes, and make a plan from there.
A 10 – 12 meter high platform on top of one of those dunes would be ideal.
Anyway, when we were bored with Hakskeen we crossed into Namibia and camped at Kamp 13.  This is a name for the part of a farm I have used many times.
It has a sheep / goat watering trough, and a small rocky creek bed, and is generally sand veld.
Although I have never met the farmer, I am sure he knows when I am there by the spore.
Out with the famous 250 x 350 braai grid, Sean makes fire and presto.
Again sleep came easily.  Even though my cracked rib was becoming persistent (It is easy to wriggle into that soft sand).
The border crossing went off without a glitch, we spent a few extra minutes in the airconditioned air of the Namibian customs office.
The long stretch of Namibian dirt highway beckoning us.
We arrived at Camp 13 without incident, I did however notice that the roads were just a little looser than the previous year.
We made camp with plenty of light to spare.
Leisurely camp set-up and preparation for the braai.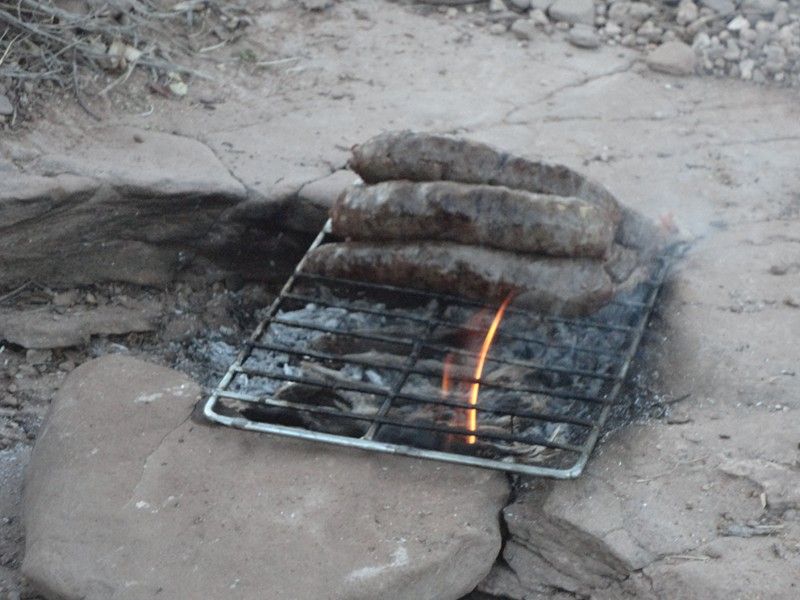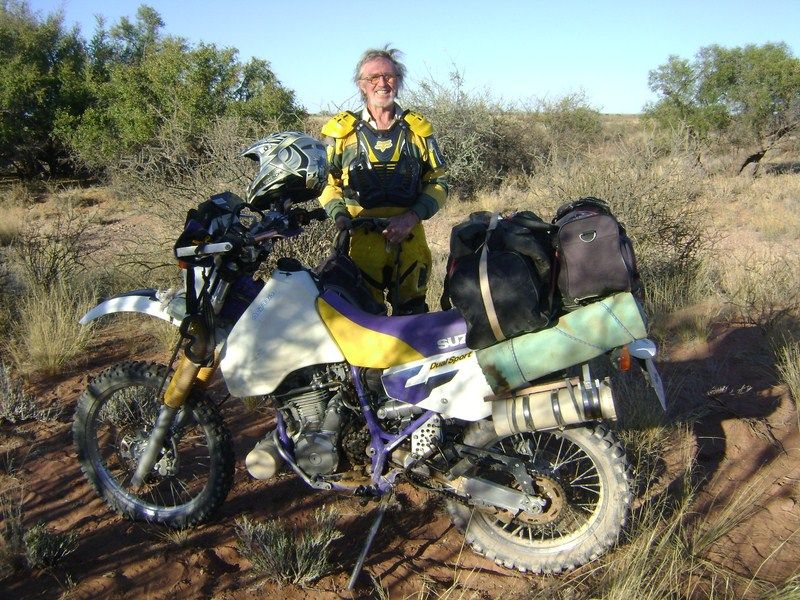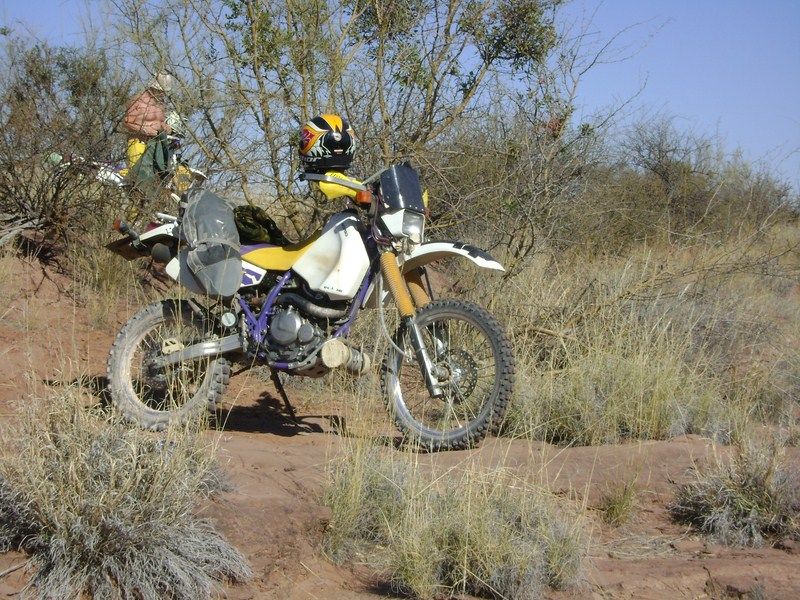 The biggest concern was the dry grass around us, one wayward spark was going to be catastrophic.
Everything was dry and ready to burn. I took special care to make sure that our braai fire was as safe as I could make it.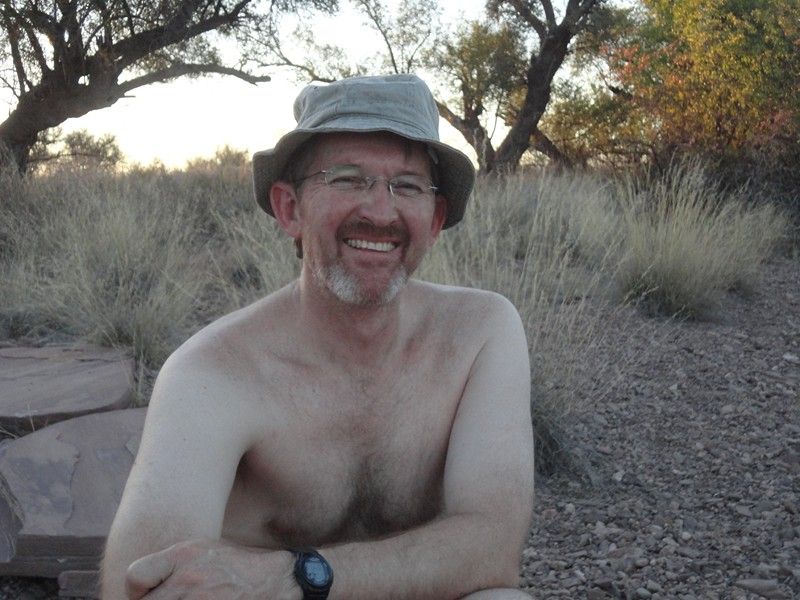 Sleep was upon us before too long, the only disturbance to our sleep, the bright moon as it moved through it's arc.
The stars were brilliant, the chilly desert air invigorating.
The next morning saw us up and ready to roll with half an hour to spare.  Note: standard camp departure time is 2 hours after sunrise ! !
Day 4 Sunday:
We rolled into Aroab on a sleepy Sunday morning to refuel.   We had to wait for the road tax office to open before we could hit the road again.
Next up were the Zero-Gravity dunes. We tried some filming but could not get the desired effect. The whoops were still great.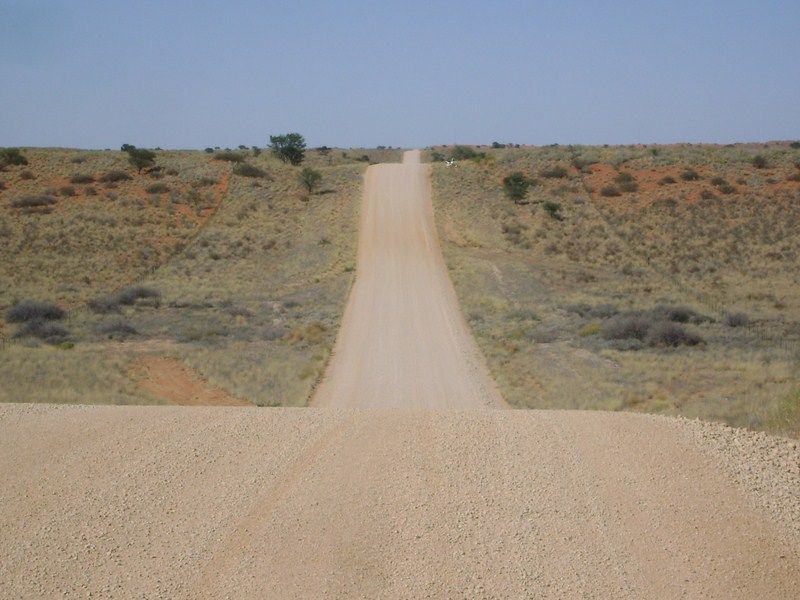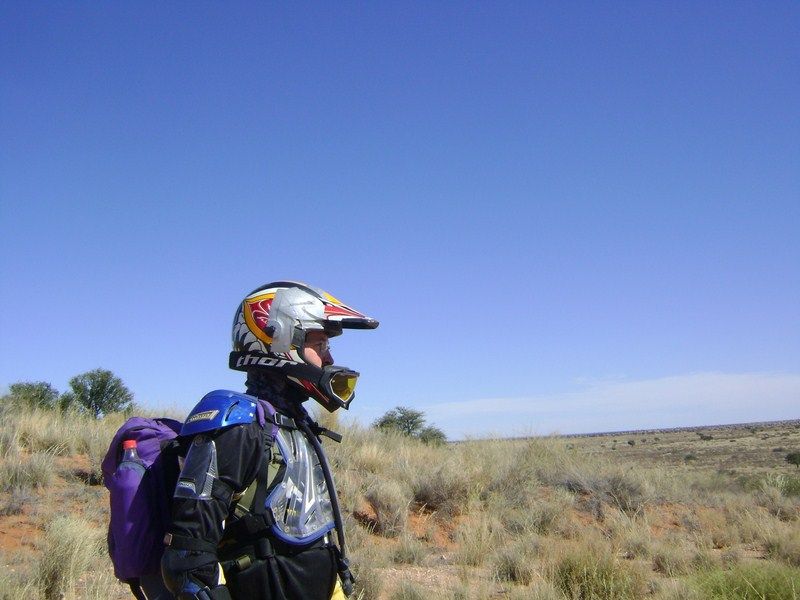 Jim's comment
The next fun feature (Over and above the general thrill of Namibian gravel roads with their high speed corners) is the dozen or so "Zero Gravity" dune crossings.  Unfortunately our videos did not do justice to these – amateurs.  
On one run I started about midway between two dunes, as I tried to accelerate to make up speed the little DR just fish-tailed as far as I went. I had to tap-off and then accelerate slowly to maintain traction. These roads were very loose.
There is one whoop about 20km from the  dunes that taken at the right speed …….
.
——- RIDE HARD, SHOOT STRAIGHT, AND SPEAK THE TRUTH ——
—————— END PART TWO —————————