…AND SO IT BEGAN…. Part 1.
Readers are welcome, and encouraged to leave comments on this blog-site.
Jimbo's Summary:
This is a 7 day, pretty much flat out full alert ride.  It cannot be described as a tour.  The aim is to experience a good variety of unrestricted gravel roads and tracks, at speeds as fast as the terrain and other unforeseen obstacles allow.
By obstacles, I mean overhanging bushes, ditches, wash-a-ways, mud-holes, animal holes and of course wild and domestic animals of which there are plenty. It is done with minimum of equipment, and of course no vehicular back-up.  The focus is on sufficient fuel, oil and water. Night time warmth can be a consideration, but fortunately not this time.  This is not to say we can not take advantage of friendly farmer's offers of camping spots, warm beds and braais etc.
Actually the last week in October was slightly too late, because it was starting to get unpleasantly hot, and early rains had created areas of mud in the floodplains.  Up to the first week in October would be good.  Best time is September.
A very chilly, wet and windy ride to Mafikeng – 300km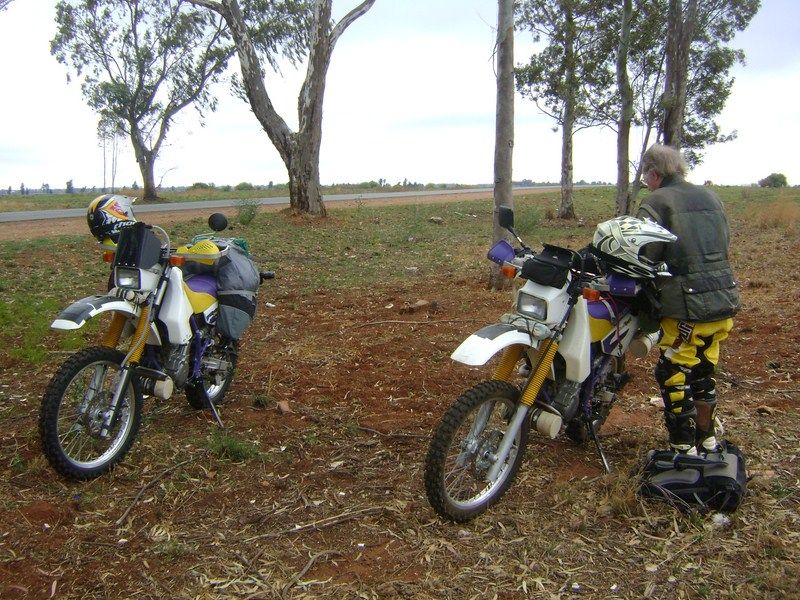 Day 1 Thursday:
Left Fourways at 07h30 expecting a pleasant, no hurry 300km ride to Mafikeng.  We had packed frozen chops and wors, so no need to stop for anything.  Well it was anything but pleasant – cold, overcast, a little bit of rain and a terrible head wind.
The head wind was so strong and constant that the pressure on our off-road goggles on nose and cheeks became quite painful.
The cold had sharpened the appetite, so decided to top up with a Nandos in Mafikeng before heading out to the border fence.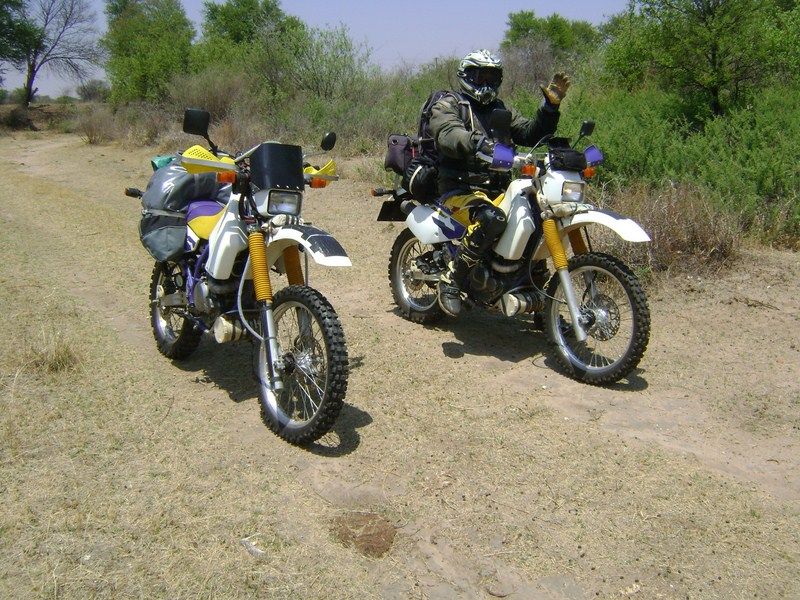 The 157 km from Ramatlabama to the Bray farms has 100s of gravelly/sandy power slide bends and corners, and 4 or 5 gnarly rocky ridges to cross over.  The remaining 100 km into Bray is mostly soft cohesionless sand where speed and concentration is your friend.
This section of the ride is almost too good to be true, with mud-holes from recent storms hampering us only slightly.  A series of interesting challenges one after the other.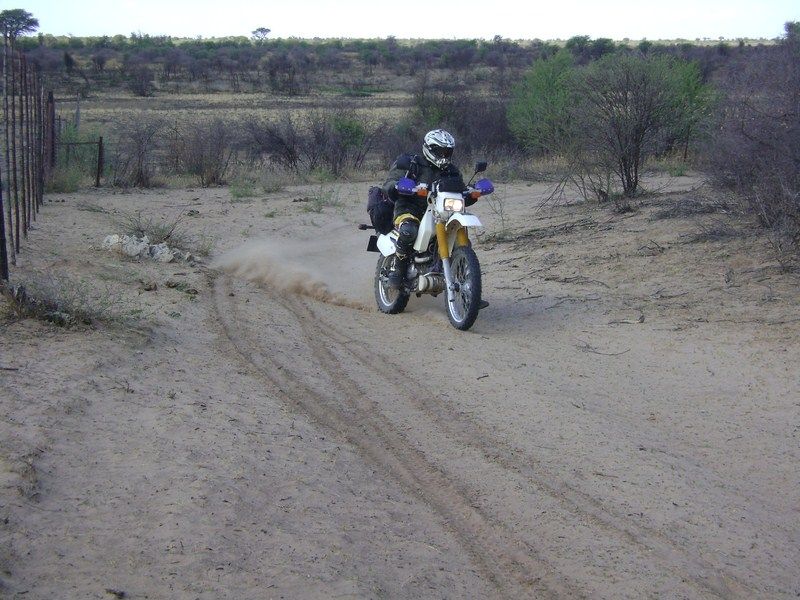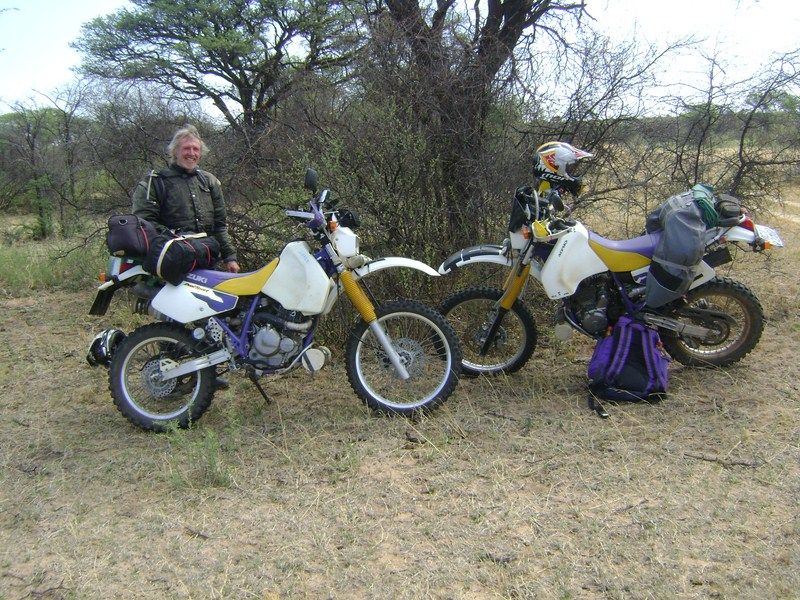 We had a short break at the beginning of the Bray farms (100 km to Bray) and then tackled the soft sand. The sand this day was softer than I ever remembered.  We normally like to keep at around 90 – 95km/h in this sand, but the motor was taking strain, and getting very hot with some pinking and clatter (we were running on unleaded 93).  I could actually smell the motor cooking.  To save the motor I decided to drop to 5th gear and reduce speed to 75 – 80 km/h.  This had very little effect on stability, and the motor ran better.  Also being in a lower gear gave a bit more acceleration when needed.  A little lesson learned.  Arrived in Bray in time to fuel-up, and set up camp at Dr.Rex's farm before dark.  Rex had kindly put some water in the tank, and left some firewood.  The frozen wors and chops had thawed, so all was well in the world.  Except I had a flattish rear tire that needed to be fixed in the morning. I got out the tools and propped up the bike in preparation for this.
Let it be known – I have not sinned……. it takes 2 weeks to recover after trying to hang onto Jimbo's tail light for 6 days straight – and that on a friggin hardcore ride as well.
I am sure Jimbo is half fudging camel and the other half bushman, with a good measure of Evil Knievel thrown in just for shits n giggles.
This ol' bullet can survive on stale cream crackers and adrenaline – eish man, tough for a newbie rider to keep up.
Now truth be told, I approached this trip with much trepidation, firstly because all the other would-be participants suddenly had other pressing engagements and commitments – yeah right.
This meant I was all alone … at Jimbo's mercy, no sweeper – I was my own sweeper. What had I gotten myself into??? (I spent 2000km looking in my mirrors, hoping to see Stoffie there)
Secondly, I knew Jimbo was going to put the hammer down – something about last years Nabian riders falling over at every corner….!!!!!
Thirdly, I did not have blase ignorance of the 2011 run, this time I knew what was coming … WTFudge am I doing here??
Day 1 started with a gale force, -20 deg, rainstorm, 300km softener – 3 and 1/2 hours of pure slog on the little thumpers.
Jimbo must have felt sorry for me, because he suggested we go to Nando's for some nourishment, while we wait for departure time and to see if anyone else might join us.
My hopes of another mortal riding companion joining us quickly fading as the departure hour loomed closer – …. I had to face my fate – I was alone, with HIM, and no-one was coming – didn't they even care???
So of we went, Jimbo happy as a lark, me pale-faced, nervous and ready to up-chuck my recently consumed Nando's…
The 22km tar stretch to the border seemed to take forever, and then without warning Jimbo swung a hard left and we were on the dirt.
This time around there was no mis-navigating, we hit the track hard and fast. Faster than I remembered. The fence was also a lot closer to my handlebar than I remembered !!!!
The first section was fairly open and as Jimbo sped away, I slowly got my rhythm and started enjoying the corners – (there are plenty) – getting the back wheel to break away as confidence levels grew. Just when I thought I was doing pretty good around a corner, I would see Jimbo's  slide marks – dunno how he does it – one day, one day.
As we blitzed along the fence, familiar scenes flashed by. It was much greener last year though. I caught flashes of Jimbo up ahead, his dust plume giving me the advantage of seeing which direction the track was going – hey this wasn't too bad, at least I could just keep him in sight.
At one point I saw a goat with his hind leg caught in the fence. I could not just leave him there, so slammed on brakes, walked back the 30 odd meters, climbed through the fence into no-man's land and parted the two fence strands that had trapped the poor fellow. It appears he had been stuck for some time as his leg was quite chafed and he was looking a bit drawn. The heat was quite oppressive.  Good deed done, back on the road to catch Jimbo.
The gnarly rock sections that Jimbo mentioned earlier, were very intimidating, much of the soil had been washed away leaving no smooth lines to negotiate. The only option was to stand, weight on the front and keep the power on. As I bumped and bounced up the track I realised that tapping off here would be disastrous.
Coming over one of the steeper sections I saw Jimbo stopped 1/3 of the way up the opposite side. a particularly loose section had stopped him and he did some fancy scramble work going up the rest of the way. This gave me the opportunity to avoid his line and gas up the other side – smooth sailing – hey, I was chuffed with myself, this wasn't so bad after all.
All too soon we passed the rocky sections and we found ourselves in the sand tracks – sand in a straight line is fine, but fudge it one little bit in the corner and things get interesting. For some reason we were plagued by suicidal sheep, trying to off themselves at the most inopportune times.
One particular threesome gave me a real heart-stopper after Jim had disturbed their afternoon nap. Fortunately I was already slowing for a corner when the lead skapie focussed on the opposite side of the road, giving me just enough time to avoid their mad dash to perceived safety.
As we got to our rendezvous point before tackling the 100 km road to Bray, Jim noticed that I had lost my ground sheet and spare tube off the back of my bike. I did a short retrace but to no avail – 157 km on dirt and already I was down to only one spare tube – only 2500 more km to go!!!
Before we left the rendezvous, Jim warned me to watch very carefully for game crossing the road. The late afternoon sun did not make it any easier, and the fact that this was another sandy section requiring some speed, I was jolted into alert mode when a solid young warthog belted into the road on a collision course with my front wheel. In the millisecond that I managed to tap off, piglet gassed it and we were able to avoid each other by a meter or two. My heart started beating again about 2 km further down the road, and I can confirm that adrenalin doesn't taste so lekker.
The ride into Bray wasn't too bad, but the sandy sections were deep and required some degree of 'wake-up'. We rode to Rex's farm exhausted but relieved that although we had a few close calls, there weren't any incidents.
We took a dip in the dam to cool off, and then settled down to watch the approaching storm.
Day 2
Puncture repair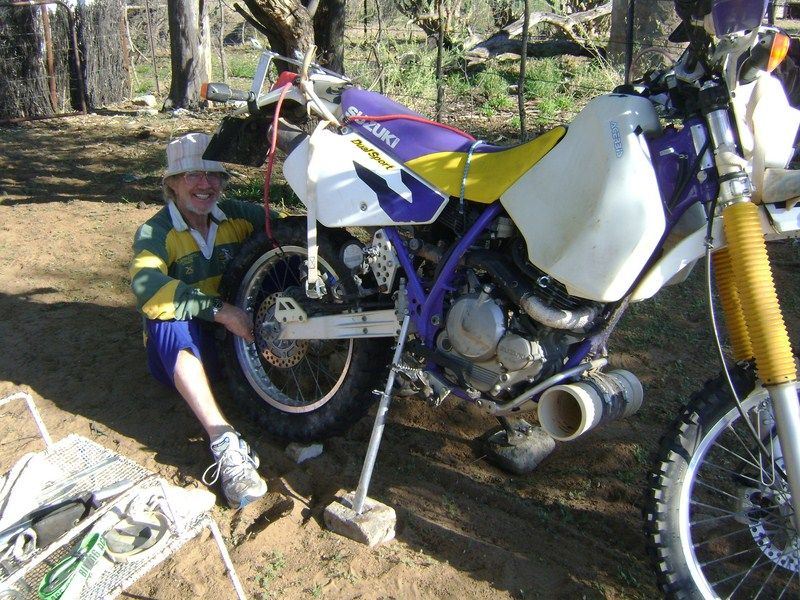 Jimbo at least has the foresight to get his punctures where it is easier to manage repairs.
Jimbo's summary – Day 2
From Bray to Van Zylsrus is 350 km of fuel-less, water-less border fence and farm roads.  The highlights being fast gravel corners, a ride through the "Molopo Game Reserve" (Plenty animals) and hundreds of sand/gravel bends along the border fence.  The lowlights being about 20 gates (Each farmer has a different idea of how best to close a gate), and abandoned coils of barbed wire along lesser used sections of the border fence line. 
We had a slow start, first repairing Jim's rear puncture.
Now for the uninformed, this 'waterless, fuel-less' 350km to Van Zyls Rus may not seem to be too big a deal, but understand this, there is no water and no fuel – for 350 km, in the friggin Kalahari – what are we doing here people?
and Jimbo says – 'I love this section to V.Z.Rus'.
Little did we know this was going to be a long day…
Day 2 continues…
We get on the road to Van Zyls Rus a little later than planned, but still confident that we have enough daylight, fuel and water to reach our destination.
The road out of Bray is not as good as last year, but we soon settle down to covering the miles. As the dust is plentiful I decide to hang back and let Jimbo get ahead. The mid-morning heat is already stifling.
The road requires plenty of concentration with the long stretches of sand, rocky sections, murderous corrugations and fast corners. The ever-present danger of game crossing the road doesn't allow one to day-dream for too long.
I am fascinated by the boards on the game fence warning of Lions, my eyes hoping to catch a glimpse of them having a snooze in the shade.
I am rewarded by a huge lone Kudu bull, standing under a thorn tree, silhouetted by the bright morning behind him. As I slow down hoping get a quick picture he dashes off – not sure of my noisy intentions.
A few kilometers further on, a whole herd of Kudus, two nice bulls, a whole lot of cows and some youngsters. The two bulls don't dash off but stay under cover making it difficult to get any decent shots with the happy-snapper camera.
We eventually find some suitable shade at about 120km from Bray to re-fuel from the 4L we are each carrying in our backpacks.
As we were commenting on the riding conditions, heat and game, Jimbo noticed some movement right next to his backpack. A red tick was making every effort to hitch a ride on this opportune host. We were about 2 meters from the nearest grass, so don't know if this guy had been hiding in the sand, or had scurried over when he had sensed a possible host. We both dusted our pack before putting them back on. we noticed a few more ticks that came scurrying at various stops along the ride – something to be aware of.
Jimbo and I were riding a little closer after the re-fuel, both keeping an eye out for the ever present danger of game crossing the road, we were still caught off-guard by two Kudu cows as we sped along to the Molopo Game Reserve.  Jim had chosen the centre of the road to ride and I moved to the right almost against the verge to avoid the corrugations. We both saw the Kudu cow on the left go darting off, clearing the fence with little effort, Jimbo pointing at her fast disappearing rump. As we looked forward the second cow was at full tilt coming from our right to join her friend. She was about level with Jim when we spotted her, but that put her and I on a definite collision course. (Jim was already looking in his rear-view mirror expecting to see the clash).  At the last moment she made a hard right turn, not 3 meters from me, I could see her face and left eye clearly as she executed her evasive maneuver. I could do nothing in the split seconds that it took for her to avoid the collision. For the second time on the trip my heart started beating again 200m down the road, and I still have not acquired a taste for close-call adrenalin.
This ride requires "FULL ALERT"
The section through the Game Reserve was great, there was game everywhere, mostly Gemsbok, Eland and the odd Kudu. There was even a one-horned Gemsbok lying in a shady spot right next to the road that did not even bother to get up as we passed by not 2 meters away.
All too soon we were out of the Reserve and back onto the fast sections heading to McCarthy's Rest. This section was also the start of the deep red-sand sections, usually with a steep embankment on either side. Riding these required full commitment as a half-hearted attempt was going to get the rider into trouble. Fortunately we came through these unscathed.
I was checking my GPS for the remaining distance to McCarthy's when Jimbo suddenly takes a hard right and comes to a sudden stop. I pulled up next to him in the soft sand – bike squirming all over the show.
This was a section we had missed the previous year and we decide to follow the fence as that put us back on the border. Jimbo took off with me in tow, I was not feeling to comfortable as our speed was not suitable for sand, and we were right against the fence. I moved to the left just to give myself some space. Suddenly our first gate, Jimbo stopped, opened and let me through. I sped off trying to get stability in the sand as quickly as I could.
As the speed built up it was exhilarating riding, hot work but fun having to negotiate the many obstacles right on the road – animal holes, fallen over tree's, sandy corners and of course that bloody barbed-wire fence.
Within 2 kms the next gate was mine to open – the bike turning into a stubborn little ass as I slowed down and the front wheel sinking into the sand. Stand down, step off the bike, fiddle with the gate opening mechanism that resembled a chinese puzzle, open the gate, drink some water from the hydra-pak, walk through the loose sand start the bike and walk it through the gate and park it out of Jimbo's way (walking the bike through required less effort than climbing on and then back off again). Drink some more water, wait for Jimbo to come through giving the obligatory toot as he whizzes off. Close the gate, re-do the chinese puzzle, climb back on the bike, kick-stand up, pick a hazard free line and get up to speed and stability as quickly as possible – man it's hot, midday sun beating down and being reflected back up off the sand.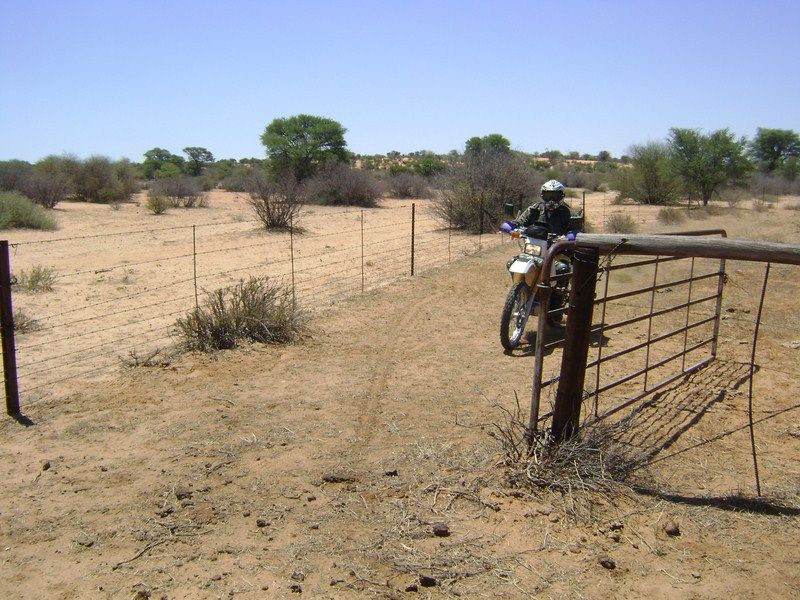 Jimbo and I alternated about 6 gates in the space of 4 kilometers,  our sense of humour getting a little frayed by this time. Eventually I get to a corner where two fences meet and a makeshift gate opening has been made. I manage to find a way through onto the road and search in vain for some shade as I wait for my riding partner.
Man it's HOT, FRIGGIN HOT!
No sign of Jimbo – I'll give him another two minutes and then go and see where he is.
Ah – headlight here he comes, take a photo….
Just as I put the camera away I see Jim jostling with the bike about 200m away, and then a muffled crack – Jim stops, arms raised in disgust- what now???
Don't feel like riding the bike back (heat buggering my thought processes around), start walking back through the sand. About halfway to the stationary bike Jimbo calls for the fencing pliers in my toolbox – @##+&%, walk back to the bike, get back on, and tackle the sand once more.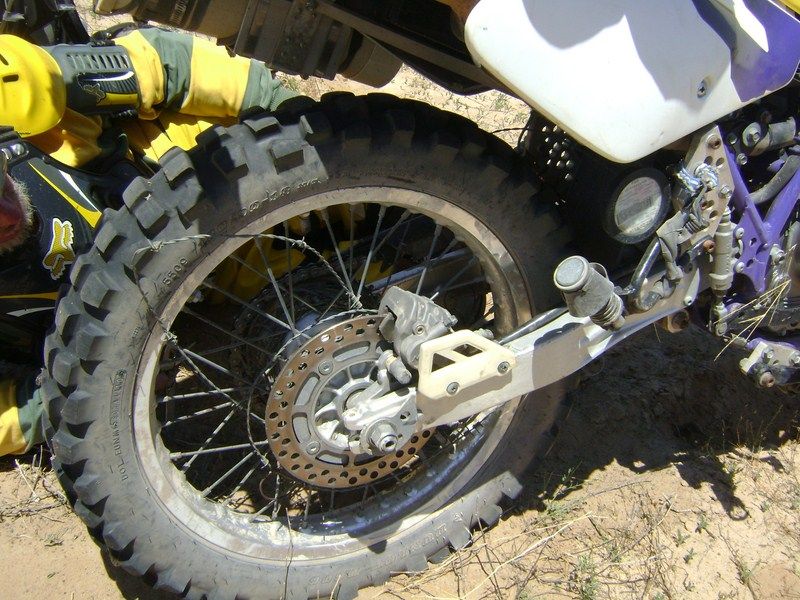 Jim has picked up a length of barbed wire around his hub, in the chain, and the wire has also broken the chain guard. Jim has his Leatherman out but it is about as efficient as a toothpick against a cavalry charge, the wire is spooled too tightly around the hub and around the brake caliper.
DID I MENTION HOW FRIGGEN HOT IT IS?
?
THAT FRIGGEN OL' SUN GOT NUTHIN TO DO BUT COOK STUPID ADVENTURE  RIDERS IN THE MIDDLE OF THE DAY…..
We get all our riding kit off as this ain't going to take two minutes. As Jim and I grovel in the sand and thorns, the sun showed no mercy and cranked up the volume.
With Jim directing me from the opposite side of the bike we managed to snip, pull, cut, twist and yank the wire from its super-glue embrace of the rear hub. We won the battle centimeter by centimeter until we were eventually free. This little episode costing us about an hour and a half and a litre of water each. Jimbo expressed some not-to-be-repeated expletives about farmers who leave barbed wire lying around and their non-uniformity of gate securing methods 
We got back onto the road and headed off – McCarthys. I was in front and about 2 kms after getting back onto the road, went through a deep sandy patch, when I got through I thought to myself 'that was pretty easy'. As I hit firmer ground I knew something was wrong, the rear end was still squirming. I stopped to confirm the obvious, I had picked up a flat.
Did I mention that this was going to be a long day??? Long, hard and hot – THAT LUCKY OL' SUN…
Jimbo did a sterling job of finding us some shade and we set about the tedious task of puncture repair.
We set about the tube swop and tyre inspection to find the offending thorns still embedded in the tyre – 3-off. I did not bother to repair the tube as Jim still had a good spare if required. We would complete repairs at the overnight stop. This delay costing us another hour or so.
We finally got back onto the ride proper and did not spare the horses as we made for McCarthy's and then VanZyl's rus.
After turning away from McCarthy's we were on the fence proper once again. Now this section had given me a hiding twice on the previous trip so I was riding to finish, Jimbo however, put the hammer down.
This section was great, sand, antbear holes, corners, thorn trees and the odd Ostrich…
As I said I was riding to finish so imagine my surprise when I caught up to Jimbo on his favourite stretch of FULL ALERT riding terrain.
Jimbo had been detained by a very determined Ostrich that was trapped by the border fence on one side and a farm boundary fence on the other. Jim had been trying to pass the pounding bird for quite a stretch. When he tried to take a gap, the Ostrich suddenly changed lanes pushing Jim off into the fence. (this is where a niggling rib injury was obtained).  A helpful Botswana national crossed the border and helped Jim to get the bike out of the tangle and on his way again.  I caught up with him as he attempted his second sortie with the Ostrich, this time the bird let him and I through without too much convincing.
We pushed hard and were soon passing familiar landmarks from the forced overnight stop on the 2011 ride.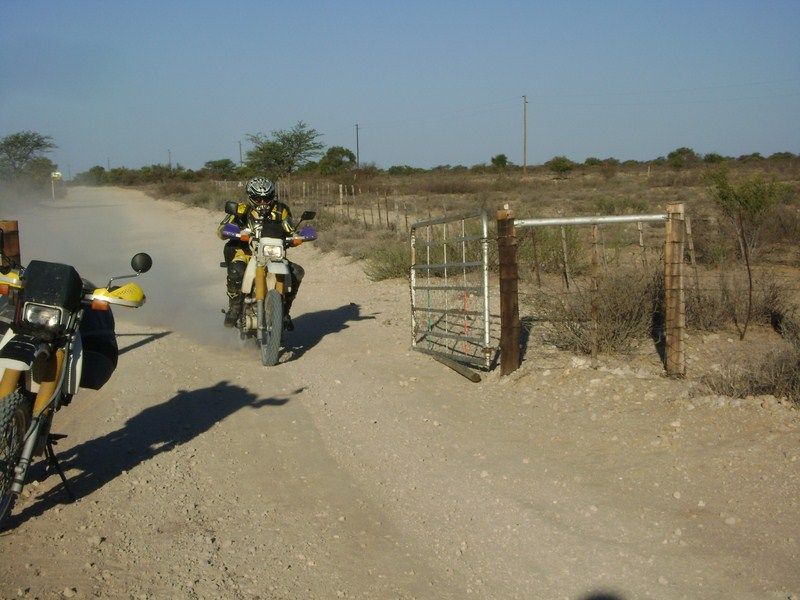 The harsh beauty of the Kalahari – mesmerizing.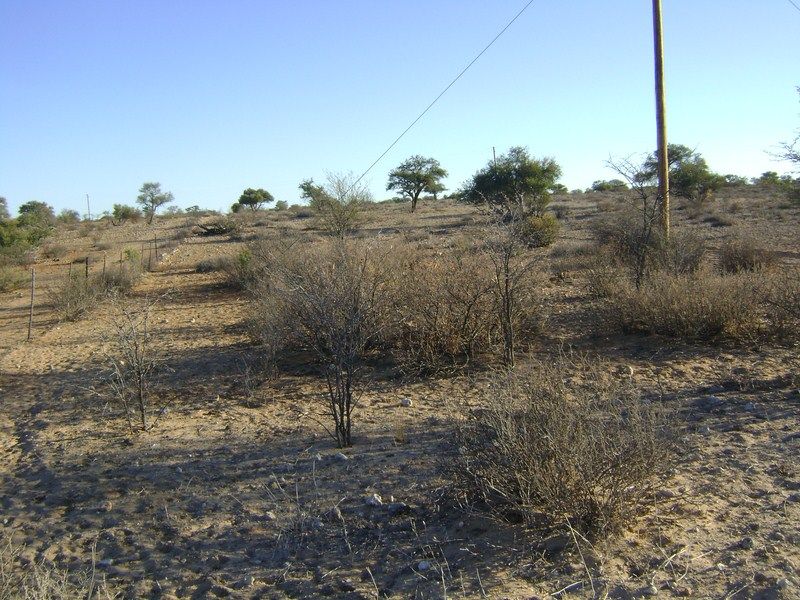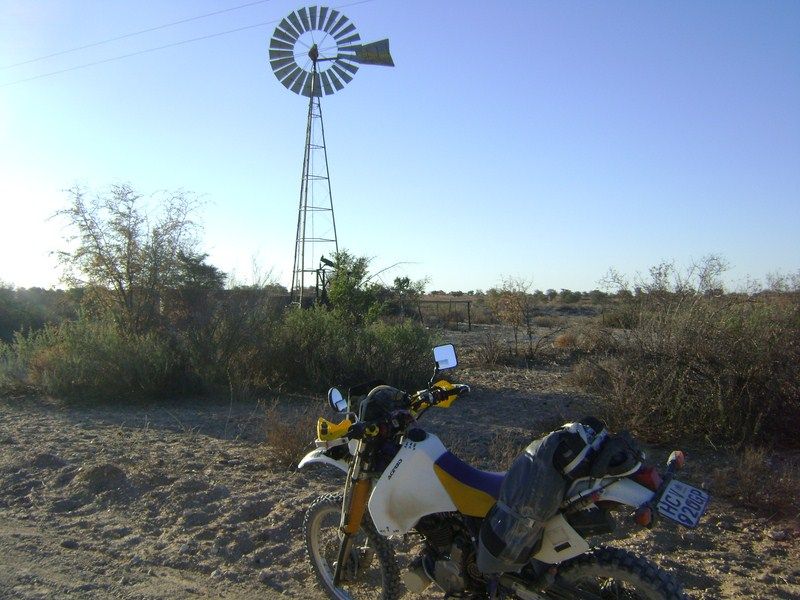 At one point I saw a huge likkewaan crossing the road. I stopped turned around and watched as he took cover by flattening himself and relying on his camouflage. All was fine until I got off the bike to take a photograph. He made for the nearest tree and shot up into the dense leafy green, totally hidden from sight.
We reached Van Zyl's without further incident, my bike spluttering, necessitating switching to reserve as we entered the city limits. We refuelled before tackling the last 35 km's to out overnight stop in the setting sun.
About 2.5km's out of Van Zyl's I was aware of a strong smell of petrol. I had lost the breather pipe on my filler cap. I had to turn around and slowly re-trace my track to the filling station trying to find the pipe in the failing light. No luck. Turn around and back again. By pure chance I spotted the breather pipe about 5 minutes later.
I was riding alone as the sun set beyond the horison, my headlight not strong enough to overcome the setting sun's glare being intensified by my goggles.
I eventually got to the farm gate where Jimbo was waiting for me, turned in and tackled the last 5km of white Kalahari sand in the dark – now this little stretch was an adventure ride to rival the worst we had done for the day. The sand was unrelenting and tried to grab the front wheel at every opportunity. I had one extremely close call, lost all control of the bike, climbed a sand embankment and shot into the bush at about 60 km/h only to rejoin the sandy road 50m further on.  I was extremely grateful to roll into the farmyard where the braai fire was blazing away and a ice cold coke was shoved into my shaking hand.
Man it was a long day….
These ticks really caught my attention.  I had read somewhere that part of their life cycle includes waiting just below ground level in the shade area of a particular tree for periods up to 7 or 9 years during which time some host animal is bound to lie down in the shade.  The tick's sensory receptors somehow tell the tick when this happens, and the tick makes a move to attach itsself.  In our case, when we stopped in the shade of a tree, the tick sensed something, came to the surface and galloped (If an octoped can gallop) about wildly in panic as if there should be a cow or goat resting there, but where the hell is it?  They would then proceed to climb up what ever was handy, boot, bag, tire.  I guess after 7 years waiting they did not want to miss out.  These ticks were red, and 6 to 8 mm long.  Interesting.
"Called sand tampans Jim,  major problem for livestock farmers.  Very common in the Northern Cape, Kalahari and Botswana.  I think you guys were touched by the sun before you even left."
—— RIDE HARD, SHOOT STRAIGHT, AND SPEAK THE TRUTH. —- —
———— ———  END PART 1  ————————-